The Best Kids' TV Shows With Transgender Characters
Because representation matters.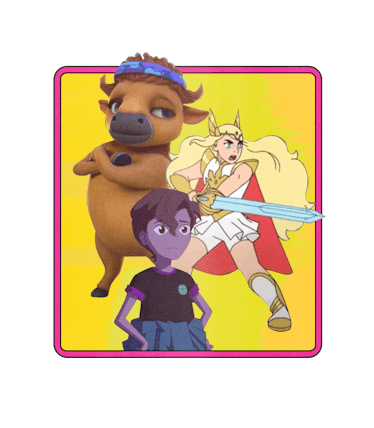 Emma Chao/Courtesy Netflix; Fatherly; Getty Images
LGBTQ+ representation in kids' shows has improved in recent years, but only slightly. Overall, it's still notoriously lacking, with only a handful of options to choose from if you're looking for any sort of queer representation. Yet the selection is even more limited when it comes to kids' shows with transgender characters.
Queuing up TV shows with characters of diverse genders is a great way to introduce the topic of trans identity to your kids. It's an easy segue to conversations about pronouns, respect, and being yourself. And for trans kids, the chance to see themselves represented in the shows they love is crucial.
Of course, the representation that exists for kids right now isn't as fantastic as it could be. Few trans characters are main characters. For some reason, there seem to be very few trans men and women; it's mostly non-binary characters on the small screen. And many are non-humans, which is, to hit the nail on the head, alienating. The good news is that the kids' shows that trans characters tend to pop in are high quality, and they often have characters of diverse races and sexualities too.
To make your kids a bit more aware of the trans community, pop on these six kids' shows that feature transgender characters.
Ridley Jones (Netflix)
This animated musical series follows a girl named Ridley who lives in a treehouse in a museum with her mother and grandmother. At night, the museum comes alive, and Ridley goes on adventures with her friends from the exhibits. One of them, a non-binary bison named Fred (a main character!), is the first non-binary character to appear on a Netflix kids' show. Bonus points for a girl starring in the main action-adventure role.
The Owl House (Disney+)
When an imaginative girl named Luz accidentally stumbles upon another realm, she meets an older witch named Eda and studies under her to become a witch herself. Not only does Luz have a female love interest, but the show also features a non-binary witch and bard named Raine Whispers, who used to date Eda.
She-Ra and the Princesses of Power (Netflix)
This fantasy/sci-fi mashup features princesses with abilities ranging from ice powers a la Elsa to the ability to grow and control plants. The show centers around Adora, who can transform into the ultra-powerful She-Ra, as she works with her friends to take down the evil Horde that raised her. The show has an incredible amount of queer representation, including Double Trouble, a non-binary, chaotic neutral shapeshifter who switches sides between the villains and heroes. In the last season, a transgender man named Jewelstar makes a one-time appearance, agreeing to help Adora fight the Horde.
Star Trek: Prodigy (Paramount+)
In the latest Star Trek spinoff, a mismatched group of teens exiled to a mining colony use an abandoned Starfleet ship to escape and explore the galaxy. Part of the gang is Zero, a member of the Medusan, a species of genderless, energy-based beings with no corporeal form. The show doesn't require any background knowledge to get into and is designed to be a child's introduction to the Star Trek universe.
Kipo and the Age of Wonderbeasts (Netflix)
In a dystopian world where mutant beasts rule the planet, humans live underground just trying to survive. When the burrow home of one of these humans, Kipo, is destroyed, the girl must learn how to live on the surface. The story features one of the few gay characters in a kids' show to actually say out loud that he's gay. It also includes Asher, a non-binary person who leaves the safety of their burrow home and eventually ends up dating Kipo.
Transformers: EarthSpark (Paramount+)
As the first Transformers to be born on Earth, the Terrans are adopted by a human family and trained by Autobots to defend themselves from rogue Decepticons and other bad guys. One of the Terrans, Nightshade, is non-binary and uses they/them pronouns, and even discusses their identity with a human who uses she/they pronouns.
This article was originally published on