9 Years Ago, All The Old Millennials Were Right: This Is Taylor Swift's Best Album
You owe it to the future to get a copy of 1989. And yes we're talking about "Taylor's Version."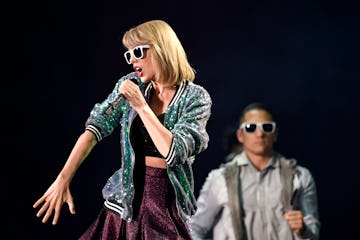 Martin Philbey/Redferns/Getty Images
The Fatherly Turntable
We may receive a portion of sales if you purchase a product through a link in this article.
You want to feel horrible? Taylor Swift's best album came out almost a decade ago. If you remember the years between 2014 and 2016, when the smash Swift album was 1989, and you were in your thirties then, you are officially old AF now. For the legions of twenty-something Swifties out there standing on their chairs in movie theaters, there's a chance they'll never understand 1989 even as they settle down to listen closely to "Taylor's Version," out today. Not to brag, but I had just turned 33 the week before "Shake It Off" dropped. I found that my early thirties were messy in the same way my twenties were messy but suddenly the stakes were higher because now I was screwing around with the outcomes of the rest of my life. What does this have to do with Taylor Swift? Well, if you're in my generation of elder millennials you remember what the 1989 era was really like: It's the Taylor Swift album we all listened to while struggling to become actual adults.
As part of her ongoing quest to reclaim the recording rights to her albums, Taylor Swift has just re-released her 2014 album, 1989, which when it first came out celebrated her twenties. Now she's in her thirties, but the eye-blink between those two decades doesn't really make you feel that much older. The difference between your twenties and thirties is not the same as the difference between your thirties and forties, which — because she lacks a time machine — is something Taylor Swift shouldn't understand, but somehow, she does. 1989 hits differently in 2023 than it did in 2014, and that's because this nostalgia-inspired album managed to be an instant classic because it exists precisely in the middle between being really young and feeling like you're getting much older.
A lot of the songs on 1989 are about looking back. "Remind her how it used to be," Taylor sings on "This is How You Get the Girl"; in "Wildest Dreams," everything is about something that happened in the past. Even more present-tense songs like "Blank Space" still require a lot of backstory for us to imagine the narrator's point-of-view. "Bad Blood" is obviously about something that was once good, but now is horrible. In the world of 1989, the fictive character of Taylor Swift has seen things you people wouldn't believe.
At the time of its release, the vaguely 1980s production value of 1989 made the record seem retro, but a leap forward at the same time. The most forgettable track, the hit-lead single "Shake It Off," was Swift's least-country-sounding song at that time, and if you brain-washed somebody my age, and took out all their memories of everything post "Baby One More Time," you could convince them that "Shake It Off" was a Britney Spears track, in a good way.
The point is almost a decade after its moment, 1989 holds up. In fact, it's probably a better record now than it was in 2014, simply because now you can actually just listen to the album devoid of the hype it had at the time. If you're a little eye-rolley about the nonstop PR machine that is Taylor Swift, listening to 1989 (Taylor's Version) will remind you, that yes, dammnit, she's pretty talented. Largely, I've never felt like the music of Swift was for me, and among dads in my generation, I think that's a common feeling, and also, perhaps, an appropriate one. Predictably, because I'm a dad who loves The National, I found folklore and evermore to be amazing, while I've been baffled by the global obsession with the just-kind-of-okay 2022 album Midnights.
However, now that 1989 is suddenly a retro album, I realize that perhaps this album was for me too. Fighting Taylor-mania is somewhat impossible, for all generations of music lovers. And, if you revisit 1989 right now, you'll find Swift's melodies at their catchy best. Can you share this album with your kids? I think largely the answer to this question is a cautious yes. For the purposes of wanting to give the album to my 6-year-old, I'm gonna have to watch out for the bonus track "Sl*t!" and figure out how to have that whole conversation. But overall, songs like "Style," "Bad Blood," "Wildest Dreams," and yes, "Welcome to New York" are fantastic power-pop tracks for even the youngest music fans. Does Taylor's Version of 1989 sound hugely different from the record we got in 2014? To me, it doesn't. But the knowledge that a slightly older Swift rerecorded these songs is interesting. She's thinking different things now than she thought nine years ago, but the words are the same. Parents who are in their thirties and forties know all too well what that feels like.
It's common knowledge that little girls love listening to Taylor Swift. If you've got kids, you may already know this. Though, if you've not introduced your kids to Swift yet, I'd say 1989 is not the worst place to start. And, in the process of sharing this album with the next generation, you might just remember who you used to be too.
This article was originally published on