The Most Relatable Parenting Moments From Steph Curry's On-Point New Documentary
Down-to-earth moments from an out-of-this-world player.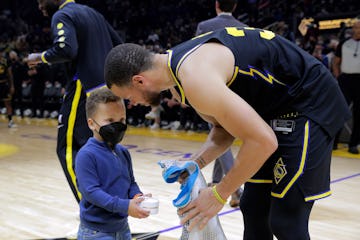 San Francisco Chronicle/Hearst Newspapers via Getty Images/Hearst Newspapers/Getty Images
The new AppleTV+ documentary Stephen Curry: Underrated is a quintessential American sports story wherein an undersized kid displays tremendous grit and hones his craft to overcome difficult situations and become one of the best players of all time.
Underrated tells that story compellingly, which is no small feat when everyone goes into the movie knowing how it ends. As a 4-time NBA Champion and 2-time NBA MVP, it's unlikely anyone would only know Curry as the guy from the Subway ads.
What does manage to surprise — and is one of the most engaging elements in the film — is how the family snippets that weave the documentary together are quite relatable. Instead of a central narrator, Underrated relies on reflections from Curry, his parents, and his college coaches to keep the film moving. And considering that Curry's dad, Dell, played in the NBA until Steph was in middle school, the stories his parents tell about his upbringing, as well as the moments we see Steph parenting his own kids, are counterintuitively resonant to parents who don't operate near the center of the cultural zeitgeist.
While family themes are woven throughout Underrated, here are five of the most relatable parenting moments from the film.
5. The Fine Line of Encouraging Kids Through Struggles Without Overwhelming Them
It's hard to imagine now, but the kid who would become the all-time NCAA scoring leader was not a basketball prodigy in the slightest. Undersized for the sport of giants, he didn't even have great fundamentals when he started high school because he had to compensate in various ways to get his shots up over taller and stronger defenders.
When Curry decided he wanted to rebuild his jumper, progress was frustratingly slow. The process of unlearning old habits so that he could replace them with better ones wore on him.
"I was lost for a while," Curry remembers. "For three months, I literally couldn't shoot outside of the paint."
"And he was just struggling," his mom Sonia continues. Because he was having such a hard time, she gave him the choice between a gracious out or continued support to help him persevere.
"If this is too frustrating for you and you don't feel it's valuable, then stop now, go back to how you've been shooting, and let's move on with this thing," she told him. "But if you're really buying into what your dad has prescribed for you then keep going."
4. The Battle For Cell Phone Safety
During his college recruitment, it looked like Curry was ghosting the coaches at Davidson College. That wouldn't have been a great move for a kid who wasn't getting many offers to play Division I college basketball, but the coaches at Davidson wanted him so badly that they just kept calling even though Curry wasn't answering or returning their calls.
While the Davidson coaches feared Curry wasn't interested anymore, after ten days of silence, it turned out that Steph wasn't flaking out on them.
"Yeah, coach, my mom took my phone away from me," remembers former Davidson assistant coach Matt Matheney. "A friend of mine texted me a curse word. I didn't send the text, but my friend sent it to me, so my mother took my phone away for two weeks.
3. The Unending Request For Snacks
One of the ongoing comedic bits in Underrated is Cannon Curry's love for food. A preschooler at the time of filming, when Curry's son appears on camera, food tends to be on his mind. Whether enjoying an orange while his dad is on a Zoom call, requesting a snack from his dad the minute Curry returns home from practice, or trying to convince his parents that the plate of food in front of him isn't nearly full enough, young Canon is a prime example of the barrage of requests every parent faces.
2. Kids Are Guaranteed To Crash Zoom Meetings
When Curry left Davidson College to enter the NBA draft after his Junior year in 2009, he promised his mom that he'd finish his college degree. Between his growing family and basketball seasons that stretched well into summer as his Warriors team continued to find playoff success, that was easier said than done. However, technological advancements and a wider acceptance of virtual learning opened the door for him to finish his requirements and make his mom happy.
The part of Curry's continuing education that all parents can relate to is the propensity for kids to make their presence known via Zoom meetings. In Steph's case, his kids insist on introducing themselves to his professor and soon have her in stitches before proceeding to exhibit all types of fun kid energy by dancing and visiting in the background.
Some of the disruptions could have been avoided if Curry had retreated to a more private part of his house instead of holding this particular Zoom meeting in the kitchen, but he doesn't want to hide his education from his kids.
As he explains to his professor, "I want my kids to see the process now that they're a little older so they can know how important this is."
1. Kids Love Bubble Wrap
Parents have a complicated relationship with bubble wrap. It's horrible for the environment and creates noise pollution in the home. But it sure does entertain kids well.
During one scene in Underrated, Canon Curry shows himself to be quite the bubble wrap enthusiast. Having found the perfect spot in the house where each pop echos off the wood floors and elevated ceilings, he musters all his energy each time he jumps into the air before landing on the bubble wrap with maximum impact. It looks like a lot of fun.
Steph's not having much fun at the time, however. He's having difficulty studying across the room as each pop breaks his concentration. But instead of making Canon stop, he just powers through and lets his kid enjoy the moment. Fortunately for Steph, bubble wrap is a finite resource.