One Great Kids Sci-Fi Show Will Make A Massive Netflix Comeback This Christmas
The previously "canceled" Star Trek: Prodigy is back. In a big way.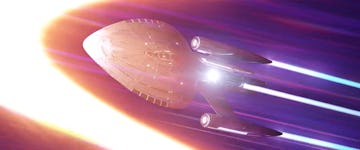 Paramount+
In 2023, the streaming TV game for families has been bad. Amid a lot of uncertainty and turmoil in the entertainment industry streamers like Disney+ and Paramount+ have unceremoniously pulled the plug on great family shows. On Disney+ this meant that Willow and Mysterious Benedict Society vanished overnight. On Paramount+, it meant that the award-winning Nickelodeon-produced animated show, Star Trek: Prodigy was suddenly beamed out into space.
But now, Prodigy is back, arguably, with a huge upgrade. Instead of airing on Paramount+, Star Trek: Prodigy Season 1 will hit Netflix in its entirety on December 25, 2023. As confirmed by CBS Studios and reps from Paramount/Viacom: "The previously aired Star Trek: Prodigy season one will be coming to Netflix later in 2023...[and]The new, second season of the animated kids' series, currently in production, is slated to debut on Netflix in 2024." And by "later" that means December 25!
As the first Star Trek series aimed at 7+ elementary school kids, Prodigy focuses on a group of wayward teenagers who find themselves on an abandoned starship called the USS Protostar. As they strive to find their way in the galaxy, they're assisted by a hologram of Captain Janeway (Kate Mulgrew) who becomes a surrogate parent figure for the kids, who, in Season 2 will be replaced by her real-world counterpart.
Produced by Dan and Kevin Hageman — the creators of Trollhunters and co-writers of the first Lego Movie — Prodigy uses the whimsical hopefulness of the Star Trek franchise to tell a contemporary adventure sci-fi story for kids right now. Families don't need to be Trekkies to love Prodigy, and this kid-appropriate series has something for everyone. And now that the show will hit Netflix, it seems very likely Prodigy will reach a much wider audience. Paramount+ is a pretty decent streaming service for parents (I.E. most of the Nickelodeon shows, ever!) but, the numbers don't lie. Netflix is still the top streaming service on the planet. So, now, the underdog of cool sci-fi shows for kids is suddenly, very possibly, about to become much, much bigger.
Star Trek: Prodigy Netflix release date
Star Trek: Prodigy is currently only on Blu-ray. All 20 episodes of Season 1 will hit Netflix on Christmas Day, December 25, 2023.
This article was originally published on