Great power, Great Responsibility
Disney+ Will Finally Add The Marvel Movies That Have Been Missing Since 2019
Disney announced the six Spider-Man movies are finally coming to Disney+.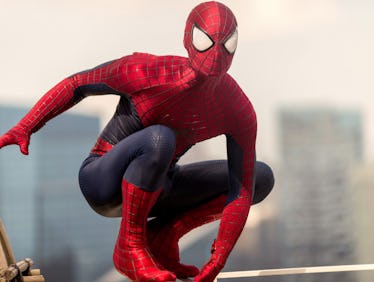 Christopher Polk/Getty Images Entertainment/Getty Images
Today brings some good news for fans of the Marvel universe! Disney announced that several Marvel movies missing from the Disney+ streaming platform are finally coming to the streaming library. Here's what you need to know.
If you've been patiently waiting for the Spider-Man franchise series to hit Disney's streaming platform, the wait is almost over. Six movies from the franchise are scheduled to hit Disney+ before summer officially hits. However, there will still be a few movies from the franchise missing—at least for now.
According to the company, six movies from the Spider-Man universe are scheduled to hit the platform in the next month. This includes the three starring Tobey Maguire, one of the two movies starring Andrew Garfield, one of the two starring Tom Holland, plus Tom Hardy's Venom. The movies are set to be released in two batches.
The first batch, hitting Disney+ on April 21, 2023, includes:
Spider-Man (2002)
Spider-Man 2 (2004)
Spider-Man 3 (2007)
The Amazing Spider-Man (2012)
The second batch, hitting Disney+ on May 12, 2023, includes:
Spider-Man: Homecoming (2017)
Venom (2018)
Unfortunately, those who are hoping to have all the Marvel movies in the same place will have to wait for a few Spider-Man titles. The Amazing Spider-Man 2, Spider-Man: Far from Home, and Spider-Man: No Way Home aren't included in the schedule, and no dates have been announced for when (or if) we can expect these to find their way to Disney+.
"Additional titles from Sony Pictures' film and television library are expected to premiere on Disney+ in the U.S. later this year," Disney notes. So there's still hope that all the movies from the Spider-Man franchise will eventually be in one place.