50 Years Ago, One Killer Show Redefined TV Superheroes Forever
There are millions of reasons to still love The Six Million Dollar Man.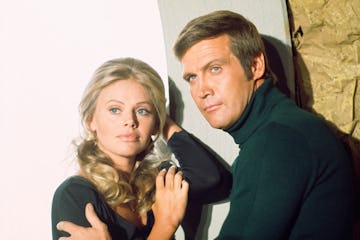 ABC Photo Archives/Disney General Entertainment Content/Getty Images
We can rebuild him! Fifty years ago, TV's first cyborg superhero changed everything. On March 7, 1973, The Six Million Dollar Man crashed his way into NBC. The show set the template for a TV action superhero, with a decided sci-fi twist. Here's why this groundbreaking action show endures, five decades later.
Lee Majors starred as Colonel Steve Austin, an ex-astronaut piloting an experimental NASA aircraft when it breaks up. Austin survives, but barely, and is fitted with bionic parts – including an eye, arm, and both legs – that transform him into a cyborg. Upon his recovery, he goes to work as a secret agent for the OSI -- Office of Scientific Intelligence -- under the watchful eye of OSI Director Oscar Goldman (Richard Anderson). The show ran for five seasons and it remains a favorite for its many fans. Among those fans is Mark Wahlberg who has long been attached to a proposed update called The Six Billion Dollar Man. Gotta love inflation, right?
The Origin of the Six Million Dollar Man
Martin Caidin, in 1972, published Cyborg, a sci-fi novel that introduced the world to Steve Austin. Cyborg inspired the 1973 TV movie The Six Million Dollar Man (also known as "The Moon and the Desert"), followed by two additional TV movies, "Wine, Women and War" and "The Solid Gold Kidnapping," both of which also aired in 1973. "The Moon and the Desert" is the one that aired on March 7. The weekly series launched in 1974 and, for the sake of repeats and subsequent home entertainment releases, the telemovies were transformed into two-part episodes. Fans will also recall Anderson didn't arrive as Oscar until "Wine, Women, and War," and that three different actors portrayed Austin's doctor, Rudy Wells: Martin Balsam in "The Moon and the Desert," Alan Oppenheimer in the next two movies and the first two seasons of the show, and then Martin E. Brooks.
How The Six Million Dollar Man Made History
There's so much to love about The Six Million Dollar Man. The opening sequence is killer. Austin's plane goes down and we hear a narrator say: "Steve Austin, astronaut. A man barely alive." Oscar Goldman then states: "Gentlemen, we can rebuild him. We have the technology. We have the capability to make the world's first bionic man. Steve Austin will be that man. Better than he was before. Better... stronger... faster." This was later shortened to the equally effective: "We can rebuild him. We have the technology. We can make him better than he was. Better ... stronger... faster." It remains one of the best opening sequences ever, with the music building to a crescendo, Austin achieving a running speed of 60 miles per hour, and state-of-the-art (for their time) graphics detailing Austin's bionic bits.
And it just gets better from there. Everyone loves the bionic sounds (dut-dut-dut-dut-dut-dut-dut) whenever Austin lifts something or jumps. The slow-mo running is awesome. Austin's fights with Bigfoot remain legendary, with the big guy played first by Andre the Giant and then, Ted Cassidy (Lurch!). Majors' wife at the time, Farrah Fawcett-Majors, appeared in four episodes across the show's run, playing three different characters. Lindsay Wagner recurred as Jaime Sommers and eventually landed her own spin-off, The Bionic Woman. And the list of guest stars is nuts: Bryan Cranston, Sandy Duncan, Flip Wilson, Kim Basinger, Sonny Bono, Donna Mills, George Takei, Stefanie Mills, and Larry Csonka, among many others. It's all so fun and cool, and Majors and Anderson are so great together, that it's easy to forgive the show's central problem: even with bionic legs and a bionic arm, wouldn't Austin's spine (and the rest of his body) have just snapped if he lofted something too heavy, pushed something too hard, or landed too forcefully after a jump? Who cares! It's too fun!
Six Million Dollar Toys and Games
The Six Million Dollar Man launched about six million tie-in products. There was a Six Million Dollar Man board game, action figures (Austin, Oscar, Bigfoot, etc.), a Mission Control Center, a Transport Repair Station, Critical Assignment Arms, a Bionic Mission Vehicle, and more. There were also plenty of tie-in novels, separate and apart from Caidin's Cyborg sagas, and a solid making-of-entry called The Bionic Book: The Six Million Dollar Man and the Bionic Woman, by Herbie J. Pilato. Best of all, though, was the Six Million Dollar Man pinball machine. Released in 1978, it was a great game for its time. Bally produced about 10,000 machines, and one in good condition today can fetch between $3,000-$5,000.
Six Million Sequels
Reunion movies proved all the rage in the 1980s, and The Six Million Dollar Man was no exception. Fans got The Return of the Six Million Dollar Man and the Bionic Woman in 1987, Bionic Showdown: The Six Million Dollar Man and the Bionic Woman in 1989, and Bionic Ever After? in 1994. Majors, Wagner, Anderson, and Brooks returned for them. Bionic Showdown featured a very young Sandra Bullock as Kate Mason, whose character became bionic and was meant to front a spin-off series that sadly never materialized. And in Bionic Ever After?, Austin and Sommers finally married.
Where to Stream the Six Million Dollar Man
You can stream all five seasons of The Six Million Dollar Man on Peacock.