Sesame Street's 'ABCs of Racial Literacy', Explained
Sesame Workshop is offering new educational tools to talk about race with kids. Here's what that looks like.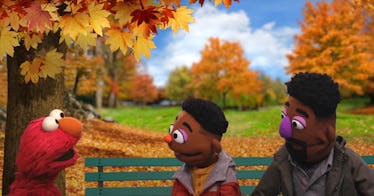 Now more than ever, parents need to talk with children about race and identity. And, quite appropriately, Sesame Workshop is striving to help. The nonprofit media and educational organization behind Sesame Street has launched the "ABCs of Racial Literacy," a new set of resources that are part of the Coming Together initiative, Sesame Workshop's ongoing commitment to racial justice.
"Designed to provide families with the tools they need to build racial literacy, to have open conversations with young children, to engage allies and advocates to become upstanders against racism, and more, Coming Together includes a racial justice educational framework, ongoing research, and a rolling release of new content on SesameWorkshop.org/ComingTogether," according to a press release. "Coming Together is rooted in extensive research and consultation with experts to develop a groundbreaking Racial Justice educational framework and curriculum for young children."
To be clear, this is not exactly a one-off special on Sesame Street, but instead a series of resources and videos you can access on SesameWorkshop.org.
"Like the science-based whole-child model that Sesame Street is known for, this framework will help guide and inform the creation of new Sesame Workshop content going forward — including future seasons of Sesame Street," the release continued. "Today's announcement, which is part of the Sesame Street in Communities initiative, builds on recent efforts focused on tackling racism and its impact on children, including The Power of We: A Sesame Street Special, the CNN Town Hall Coming Together: Standing Up to Racism, and related short-form content."For example, a video presents (watch below) two new Muppets — 5-year-old Wes and his father Elijah – explaining to a curious Elmo why Wes's skin is brown. Another video features actual families discussing their real-world experiences. And additional elements include activities for families to do as a unit, talking points and family conversation starters.
All of the Coming Together: The ABCs of Racial Literacy resources are available for free – in English and Spanish — at SesameWorkshop.org/ComingTogether. And those resources will be regularly updated with fresh content for kids and families promoting racial justice.