5 Romantic Comedies For People Who Hate Romantic Comedies
The majority of rom-coms may be cheesy and formulaic, but that doesn't mean there aren't some that transcend or subvert the genre to become a movie anyone, even rom-com skeptics, would enjoy.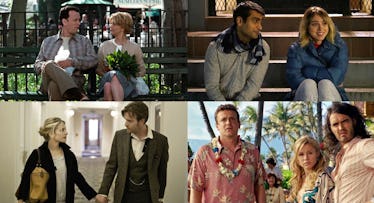 While superheroes and spies have dominated the box office, this summer has also marked the quiet return of the solid romantic comedy. At the theaters, Crazy Rich Asians is officially the breakout hit of the summer, having earned nearly $80 million at the box office while earning a 93 percent approval rating on Rotten Tomatoes. Rom-coms have also seen success via streaming, with To All the Boys I've Loved Before and Set It Up have both received rave reviews and quickly developed devoted online fanbases.
This is great news for the countless cinephiles, who love nothing more than curling up on the couch and watching two conventionally gorgeous people meet, go through a series of hilarious antics, and eventually live happily ever after. Still, for others, the idea of sitting through all the lazy tropes and corny dialogue of a rom-com is worse than having to rush to the airport to let the love of your life know how you feel before they jet off to start a new life on the other side of the country. But while the majority of rom-coms may be cheesy and formulaic, that doesn't mean there aren't some that transcend or subvert the genre to become a movie anyone, even rom-com skeptics, would enjoy. Here are five rom-coms that even people who hate rom-coms would love.
You've Got Mail (1998)
When it comes to Tom Hanks and Meg Ryan living happily ever after, Sleepless In Seattle tends to get most of the attention but this 1998 email-centric rom-com is not-so-secretly the superior film. Instead of Meg stalking Tom from afar, the two actually get the chance to show off their chemistry onscreen and it is off the goddam charts. Add in a supporting cast that includes Steve Zahn, Parker Posey, and Greg Kinnear and you have a bonafide classic that doesn't rely too hard on contrived conflict to suck the viewer in.
You've Got Mail is available to stream on HBO.
10 Things I Hate About You (1999)
Loosely based on the Shakespeare's Taming of the Shrew, 10 Things I Hate About You is far more self-aware and genuinely hilarious than you might expect from a teen romance. It purposefully avoids most of the groan-worthy cliches found in the genre and instead tells a fun, light-hearted story that is anchored by an absolutely killer soundtrack, a progressive message about gender roles and feminism, and incredible performances from its leads, as Julia Stiles and Heath Ledger both showed the world they were destined to be stars as Kat and Patrick. And regardless of how you feel about the rest of the movie, Ledger belting out "Can't Take My Eyes Off of You" with the help of a high school band is iconic.
10 Things I Hate About You is available to stream on Showtime. You can also rent or buy it on Amazon and iTunes.
Forgetting Sarah Marshall (2008)
Most people think of Sarah Marshall as a pure comedy but this hilarious Jason Segel film secretly follows the rom-com formula hidden behind a plethora of jokes about blue balls, blowjobs, and vampire puppets. Segel and Mila Kunis have a sweet but filthy rapport as Peter and Rachel, who meet at a resort in Hawaii that Peter is visiting after being dumped by the titular Sarah Marshall (Kristen Bell). The twist? Marshall is at the same resort with her new boyfriend Aldous Snow (Russell Brand). It's a smart, goofy movie with a heart that can win over even the most skeptical viewer.
Forgetting Sarah Marshall is available to stream on Netflix.
Beginners (2010)
A massively underrated movie that centers around Oliver (Ewan McGregor), a man who has his world turned upside down when his father Hal (Christopher Plummer) comes out of the closet after the death of his mother, whom his father had been married to for decades. But after Oliver gets over the initial shock, he finds that his dad's newfound lust for life inspires him to seize the day and he eventually meets and begins to fall in love with a passionate, unpredictable actress Anna (Mélanie Laurent), who avoids being falling into the Manic Pixie Dream Girl Trap.
Beginners is available to rent or buy on Amazon and iTunes.
The Big Sick (2017)
What happens when the girl you are falling in love with suddenly falls into a coma? That is the premise of The Big Sick, another film that is a rom-com disguised as an Apatowian comedy. The script, written by and based on the real-life romance of husband and wife duo Kumail Nanjiani and Emily Gordon, is a masterpiece that earned the movie an Oscar nomination for Best Original Screenplay. The Big Sick isn't reinventing the wheel but it does exactly what it sets out to do and strikes a delicate balance between laugh-out-loud hilarity and unabashed sentimentality.
The Big Sick is available to stream on Amazon Prime Video.