Rogers: The Musical Is Hitting Disneyland — But What About Disney Plus?
The MCU musical based on the life of Captain America is now a real thing. But will it ever stream?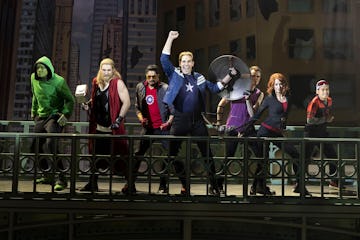 Marvel/Disney
I can do this all day! What began as a Marvel inside joke is now a full-blown musical theater experience. On June 30, 2023, Rogers: The Musical will debut at Disney California Adventure Park. But what is this exactly? And will it ever stream on Disney+?
What is Rogers: The Musical?
In the Disney+ series Hawkeye, early in the show, Clint Barton (Jeremy Renner) takes his family to a Broadway musical in NYC based on the life of Steve Rogers. Hawkeye is pretty annoyed with this musical and points out several inaccuracies, including the fact that Ant-Man wasn't even around for the huge battle in New York, as depicted in the 2012 movie The Avengers. But now, that meta-fictional joke is becoming a real musical in our world.
Rogers: The Musical at Disneyland
To be clear, Rogers: The Musical will only be 30 minutes. So, if you're afraid of losing several hours of your vacation to it, don't be. According to Disney, the song from Hawkeye "Save the City," will be featured, as well as the song "Star Spangled Man," which was in the first MCU Captain America film in 2011. The performance will also pack in five additional original songs, which sounds like a lot. And for those of you enjoying the more realistic Marvel univesre with Samuel L. Jackson's Secret Invasion, in this version, Nick Fury will SING.
Starting June 30, Rogers: The Musical will run Tuesday through Saturday. Disney is calling this a "limited engagement" so it's unclear just how long it will run. It's possible this summer is it?
Will Rogers: The Musical stream on Disney+?
For those who don't head to Disneyland, the larger question is: Will this ever hit Disney+? Considering the fact that Disney+ has streamed theatrical performances before (Hamilton) it feels possible. But, at this moment, the full experience of Rogers: The Musical is very much something that only exists at the happiest place on Earth. Or, in this case, the happiest place on Earth-616.