17 Years Ago, One Forgotten Family Movie Saved Robert Downey Jr.'s Career — And Its Not Iron Man
Time to fire up some real RDJ classics.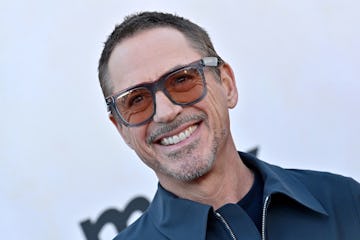 Axelle/Bauer-Griffin/FilmMagic/Getty Images
Today, countless dads probably consider Robert Downey Jr. to be a sort of proxy version of themselves. As Tony Stark AKA Iron Man, Downey Jr. revitalized the concept of a wise-cracking leading man. While the Marvel Cinematic Universe continues to spin out into infinite permutations, it's also nice to think back to the simpler days when Tony Stark was pretty much the entire MCU. Prior to Iron Man, Robert Downey Jr.'s didn't really explode. Or wait a minute, maybe that's not true? According to RDJ himself, the movie that saved him in the early aughts wasn't Iron Man. But instead, a family film you've probably forgotten about.
Following his early successes in '80s films like Less Than Zero, his '90s hits like Home For the Holidays, or even his turn in Ally McBeal, Downey Jr.'s life was derailed by a series of addiction-related crimes. In essence, his ability to act at all was limited by who would insure him for various projects. But that all changed, not with Iron Man but instead, with a remake of The Shaggy Dog with Tim Allen in 2006.
In a recent interview with the New York Times Magazine, promoting Oppenheimer, Downey Jr. took a look back on his career and cited The Shaggy Dog as one of the two most important films in his career. The other one? Another family film that is largely forgotten; his starring role in Dolittle.
"Honestly, the two most important films I've done in the last 25 years are The Shaggy Dog, because that was the film that got Disney saying they would insure me," Downey Jr. said candidly. "Then the second most important film was Dolittle, because Dolittle was a two-and-a-half-year wound of squandered opportunity."
Essentially, Downey Jr. was able to do big movies again, all thanks to The Shaggy Dog. And, even though he wasn't happy with the way Dolittle worked out at all, he partnered with his wife, Susan Downey to make the movie, and credits her with making the movie "serviceable enough to bring to market." And because Dolittle flopped, he found that it was a moment to "reset" and "made some changes in who our closest business advisers were."
So, if you think massive failures will define your entire life, maybe be more like Robert Downey Jr. and just embrace the good, the bad, and the shaggy.