OG Power Rangers Netflix Reunion Special: Release Date, Cast, Trailer, And More
The new 'Power Rangers' special will celebrate the 30-year legacy of the unlikely crew of superheroes. Here's what you need to know.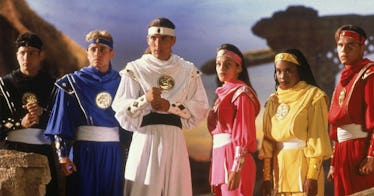 20th Century Studios
Taking care of business! Thirty years after The Power Rangers materialized into our lives, the original crew is coming back with a modern twist — a Netflix special. The new special will celebrate the three-decades-long legacy of the unlikely crew of superheroes, and there will be more than a few familiar faces, including the original Power Rangers cast members most of us remember from the '90s. Here's what you need to know.
What is the Power Rangers reunion special about?
In this special, it sounds like we can expect a lot of the drama and excitement the franchise is known for, picking up 30 years after the Mighty Morphin Power Rangers was formed by Zordon.
"In the midst of a global crisis, they are called on once again to be the heroes the world needs," the logline reads.
"Inspired by the legendary mantra from the franchise 'Once a Ranger, always a Ranger,' Once & Always reminds everyone when you become a Ranger, you are always a part of the Ranger family and always welcome."
Which Power Rangers cast members are in the Netflix reunion?
The reunion special will be a fun walk down memory lane for several Power Rangers original actors. Viewers will get to see several familiar faces, including Blue Ranger Billy Cranston, played by David Yost; Black Ranger Zack Taylor, played by Walter Emanuel Jones, (second) Red Ranger Rocky DeSantos played by Steve Cardenas, (second) Black Ranger Adam Park played by Johnny Yong Bosch, (second) Yellow Ranger Aisha Campbell played by Karan Asley, and (second) Pink Ranger Kath Hillard played by Catherine Sutherland.
There is also some speculation that the original (and only) Green Ranger, played by the late Jason David Frank, might appear posthumously after dying by suicide in November 2022. However, nothing has been confirmed on whether Frank was involved before his death.
Is there a trailer for the Power Rangers Netflix reunion?
On Jan. 17, Netflix shared a video on YouTube featuring a first look at the upcoming special. The 2-minute-20-second video showcases behind-the-scenes footage of the Once & Always Anniversary Special and gives viewers a peek into some of the conversations we'll see between old friends.
We see some of the original actors donning their classic ranger suits, reacting as they visit the set they haven't been to in decades and reminisce about their colleagues and friend who are no longer with us.
What is the release date for the Power Rangers Netflix reunion?
Mighty Morphin Power Rangers: Once & Always will premiere worldwide on Netflix on April 19, 2023.
Also, the milestone 30th season of Power Rangers: Comic Fury will hit Netflix later this year.
Where to stream classic Power Rangers
Nearly all the old Power Rangers shows — spanning 30 years, 29 TV seasons, and 21 different-themed spin-offs — are on YouTube right now.