20 Years Later, I Saw The Postal Service In Concert, And Damn It Feels Good To Be Emo
2003 wasn't that long ago. Wait a minute, maybe it was?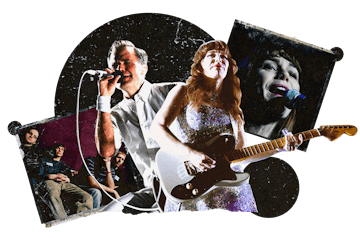 Ariela Basson/Fatherly; Getty Images
The Fatherly Turntable
We may receive a portion of sales if you purchase a product through a link in this article.
At Madison Square Garden, as the summer turned into the fall of 2023, Ben Gibbard took to the stadium arena, at exactly 9:00 PM in an all-black outfit — button-up, jeans, microphone with a red cord — and quickly dove into the opening track of Death Cab For Cutie's 2003 groundbreaking album, Trasatlanticism. That track — "The New Year" — opens up with a clanging, driving guitar. Apart from singing, Ben Gibbard hardly spoke a word, except to mention the fact that he was performing, in fact, with Death Cab For Cutie, the band of which he's been a frontman for over two decades. His voice sounded as young as ever, maybe even better than it did the last time I saw them, in the late aughts, for their tour of Narrow Stairs. He sounded trained, and healthy, and the crowd responded to every track on the album with various stages of delight, for a crowd of which the audience was absolutely, at minimum, 29 years old.
The MSG show was Death Cab and The Postal Service's second and final show at the venue — they played the night before, to two sold-out audiences. On October 17, 2023, they'll complete this tour in Los Angeles. But, on September 20, in one of the most famous buildings in New York City, I sat in relative nosebleeds that still cost almost $100 a pop. The crowd was pushing 30 at the youngest, and I saw more than a few people north of 50, walking up the nosebleed stairs, full heads of grey hair, carrying $16.50 beers, wearing orthotics, and carrying $100 commemorative posters made specifically for each venue. Twenty years ago, those people were my age, proving that Ben Gibbard's brand of dad rock is truly intergenerational. Of note: Gibbard himself is not a parent (and neither is Jenny Lewis) and yet, quick math of the time between 2003 and 2023 makes it clear that a huge number of people who love these records have, accidentally, transformed Death Cab and The Postal Service into dad rock bands.
As Death Cab played their set, the reaction to the music reflected the music itself. Transatlanticism, which features tracks like "Title and Registration," "Passenger Seat," and "Lack of Color," all don't add up to an album that makes you want to mosh. In fact, it's more of an album to walk around your city somberly to, or an album made for driving around late at night while trying not to cry. Death Cab's music is sort of a bummer, in the best way. And only superfans like me really know how good it feels to be sad with this band.
The audience was enthralled. The standing-room-only audience was clearly dancing and having a wild time, and everyone near me was singing, if not politely to themselves, swaying while standing or sitting. There were genuinely moving moments — when the title track of the album came on, the crowd responded in kind: first, with just a few phone flashlights in a sea of darkness, and then more, and then more, until the audience was like a night sky pockmarked with hundreds of stars.
When Gibbard and Death Cab finished their expedient, down-to-business, and overall technically wonderful set, the group took a 15-minute break. It was basically exactly 15 minutes, too — enough for every concertgoer to grab another beer, use the bathroom, and go see if they could buy one of those limited edition commemorative posters (because let's face it, who among us needs another band t-shirt?)
And then, just about at 10 PM, Gibbard, Jenny Lewis, and the rest of the touring version of The Postal Service stepped out in an outfit change: All white. And the audience went absolutely wild. Thinking about death was so fifteen minutes ago. Now we were alive.
Here's where I have to admit something: I was in grade school when both albums came out and didn't discover them until my older cousin put me on them about a year or two later, making me a pre-pubescent fan, a solidly young millennial, while everyone around me in the audience had about a decade or so on me. That might be why I didn't realize how big of a deal the Postal Service would be to the audience, even though I was also more excited to see Postal Service than Death Cab, even if both bands have the same lead singer. For some reason, I actually thought that Death Cab would be the bigger draw, given the fact that they are prolific, with a number of chart-topping indie albums, and as Postal Service, there's just that one album. But the way the audience reacted to Death Cab vs. the Postal Service was wild.
Jenny Lewis, ethereal in a white dress, on drums, keys, vox, and guitar, crooned in a way that sounded almost exactly as it did on the original and only Postal Service Album, 2003's Give Up. Once again, Ben Gibbard barely introduced the band, barely mentioned anyone performing, and didn't even introduce Lewis. But it was clear by the crowd's reaction — everyone in my section was standing now, singing, dancing, and belting to hits like "The District Sleeps Alone Tonight" "Brand New Colony" and "We Will Become Silhouettes" — that no introduction was required. The crowd went absolutely wild over her. And why shouldn't they? Just as this audience grew up on, or entered young adulthood on, more likely, these albums, they also did so with Rilo Kiley and Nice as Fuck and her solo acts, all of which defined a particular generation of girls — girls who could aspire to be super cool, super feminine, frankly, super twee, and who rocked out hard.
If, at times, anyone in the audience was brought to tears — perhaps remembering their more angsty days or marveling at how the time passed — who could blame them? If they splurged on that $100 holographic poster, their God-given right, as adults, who would give them a second glance? And if these older folks, these older millennials who were once ruling the aughts on Myspace and ripping up the town in their 2002 Honda Civics and loitering at dive bars around the nation when beer was still $2, if they remembered the days they had cheap urban rent and still smoked cigarettes and got their first flip phone, or tried on their first pair of Dickies or skinny jeans, what a trip down memory lane.
As the audience politely filtered out of MSG, after a concert that started at a respectable hour and ended at one, I felt reminded that it's a privilege to get older. It's possible that no one in that crowd will ever see the Postal Service or Trasatlanticism played live ever again. Not in a morbid way — or maybe in a morbid way. But who knows if they'll ever do it again, even if they're all around in 2043? And even so, decades pass and tragedies unfold in between them. So, when your favorite Millennial-era band announces a two-decade-later reunion tour, you jump on that opportunity. Because why wouldn't you? What have you got to lose, besides a slightly exhausted next day at work, maybe a minor beer hangover, and a few hundred dollars over that commemorative poster? (Okay, I bought the f*cking poster.) It's just like the old days.