8 Great Picture Books To Help You Talk to Your Kid About Elections
This election is big. But for your child, future elections will matter even more. These books help.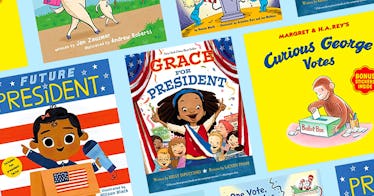 Not only is it your civic duty to cast that ballot, but you've also got to make sure your kid realizes that voting isn't just relegated to American Idol or The Masked Singer. Problem is, you're probably too stressed to unfold your daily newspaper (election anxiety is no joke), never mind compile an appropriate reading list for your progeny. No worries, we've got you covered and hooked you up with a bonafide reading expert. Seira Wilson, Amazon Book Editor, has sifted through a Mount Rushmore-sized pile of election books for children, so you don't have to. Here's what she said: "I looked for books that are non-partisan and give kids relatable ways to understand the election process and why voting is important, but still have a sense of fun and entertainment to the reader."
See! Despite the fact that your hair has turned gray, and you already had to disinvite your crazy uncle from Zoom Thanksgiving because he's voting for Kanye––democracy can still be fun!
These books will help you spark a smart conversation with your family, but (hopefully) won't start any political arguments at the dinner table. Although, you're still on your own for the neverending battle between your kiddo and those Brussel sprouts. (No, you can't be done yet.)
If You Go with Your Goat to Vote by Jan Zauzmer, illustrated by Andrew Roberts
One Vote, Two Votes, I Vote, You Vote by Bonnie Worth, illustrated by Aristides Ruiz and Joe Matheiu
Future President by Lori Alexander, illustrated by Allison Black
Grace for President by Kelly DiPucchio, illustrated by LeYuen Pham
Curious George Votes by Margret & H.A. Rey
The President of the Jungle by Andre Rodrigues, Larissa Ribeiro, Paula Desualdo, and Pedro Markun, translated by Lyn Miller-Lachmann
Vote for Our Future! by Margaret McNamara, illustrated by Michah Player
Equality's Call: The Story of Voting Rights in America by Deborah Diesen, illustrated by Magdalena Mora
This article was originally published on