Oscars 2022 James Bond Montage Is Awesome — But One Thing Is Missing
The defining feature of 007 isn't just action.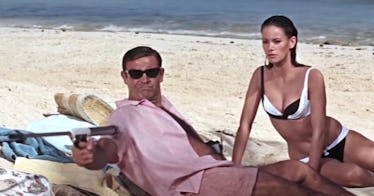 Credit:MGM/EON
James Bond has shaken and stirred the Oscars. The 2022 Academy Awards honored various achievements in the world of motion pictures. And although some real-life controversy took center stage (quite literally!) there we some cooler tributes you might have missed, especially if you're a James Bond fan.
Not only did Billie Eilish and FINNEAS take home the Oscar for best original song for "No Time To Die," but they also thanked their parents in the process, saying, "We love you as parents and we love you as real people, too." Eilish also performed the song live, which if you haven't seen is pretty excellent.
But, on top of that, there was also an awesome montage celebrating 60 years of James Bond movies, starting with Dr. No in 1962. Introduced by Tony Hawk, Kelly Slater, and Shaun White, the montage featured all the Bonds, set to the immortal Paul McCartney Bond song, "Live and Let Die." The montage is great, and if you haven't seen it, check it out below.
Still, despite how badass this montage is, there is one oddity and one thing missing. The odd thing is that only two of the Bonds actually speak in the montage, Sean Connery and Daniel Craig. Meanwhile, although we see Roger Moore, George Lazenby, Timothy Dalton, and Pierce Brosnan, we don't actually hear them say anything.
And on top of that, though this montage does represent 60 years of Bond fairly well, it is missing the one crucial feature that actually defines the popularity of 007: the James Bond dad-joke puns. This omission might seem mild, but it's not!
The 007 movies aren't just popular because Bond is cool and the action is great. The sly knowingness of the jokes allows Bond to wink at the camera and that's one essential reason why the James Bond films have endured. Yes, the books were popular, but the books were also fairly humorless. The revelation of movie Bond is that he invited the audience to have a little bit of fun, and that invitation is never clearer than when he drops a Bond pun.
At the end of the montage, Daniel Craig's Bond says, "I never left," which is fine. But, not near as good as his latest dad-joke pun in No Time to Die when he says that his EMP watch "really blew their mind" when he used it on a henchman with an electric eyeball. This is to say nothing of the underrated Pierce Brosnan one-liner in The World Is Not Enough when he claims his relationship with a villain is "strictly plutonic" after said villain tries to blow him up with plutonium. AND, we even get a quick clip from Thunderball where Sean Connery's Bond shoots that harpoon gun, which in the film is followed by "I think he got the point." Honestly, that scene just doesn't hit the same way without that punchline, right?
Yes, Bond is all about those martinis, fast cars, and amazing action scenes. But, James Bond is also beloved because of — not in spite of — cheesy dad jokes. Maybe the next time the Oscars does a video tribute to 007, it will be nothing but wall-to-wall puns and one-liners. That would be truly shocking. Positively shocking.
Check out our James Bond puns and dad jokes.