9 Great Online Art Classes for Kids
These nine online art classes offer first-class instruction and a whole lot of fun.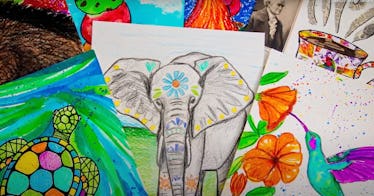 Video School Online
School has started all across the country, but for those who are looking for some extracurriculars, like painting classes for kids or other online art classes for kids, or those trying to fill those last weeks of summer, you've come to the right place. Great, affordable art classes for kids and toddlers are, luckily, not that hard to find, and you've come to the right place for some great art classes for kids that are on the computer.
This list of online art classes for kids includes drawing classes for kids, painting classes for kids, and so much more. These classes are everywhere online, at low or no cost to you.
These largely free online art classes for kids are for children of a variety of ages and provide instruction on everything from simple craft projects and beginner drawings to intermediate activities like watercolor painting and portraiture, using drawing videos, and creating classes that involve art for kids they'll actually like. Here are eight of the best online art classes for kids that are either free or extremely affordable.
Skillshare Online Art Classes for Kids
Skillshare has 13, free online art classes for kids that range from doodling lessons to hour-long, 25 step drawing lesson, or courses that cover drawing a giraffe or painting a cat in about 15 minutes. They also focus on different themes and materials, like how to paint with acrylic and watercolors. Stock up on some art supplies and set your kid in front of the computer.
Sparketh's Kids Classes
Kids aged 6 to 18 can enjoy up to 1,000 free online art classes for 30 days on Sparketh. Kids can take nature or animal drawing classes, learn how to paint portraits, and upload their art into a central portfolio on Sparketh and even create a student artist's profile. There are dozens of courses on Sparketh, so any kid could find just about anything they want to create.
Lunch Time Doodles with Mo Willems
Every day at 1 p.m. ET, Brooklyn-based artist Mo Willems, illustrator of Knuffle Bunny, and the television series Sheep in the Big City of Cartoon Network, host a live class where Willems creates a new doodle. Kids (and adults, obviously) are invited to join along and doodle with him. The course is less "instructional" and more focused on open-ended, creative play. It's less of a class and more of a great post-lunch brain break than a lesson in mastery of basic art principles. There are 21 awesome classes to choose from.
Carla Sonheim's Kid's Week
Carla Sonheim, the author of Drawing Lab, has a series of art classes that involve six lessons taught not just by Sonheim but also by fellow artists and teachers Lynn Whipple and Diane Culhane. The classes, which all last less than an hour, only require a bit of time and basic art supplies. Lesson one? Drawing Picasso dogs. Lesson three? Leaf printing. Lesson six? Modigliani Portraits. The classes are cool because they combine real artistry and artist style with basic, fun tasks that kids of any age can get behind.
Kitchen Table Classroom
The Kitchen Table Classroom, a free art website run by a 20-year-veteran art teacher, has a trove of online, completely free classes. There are printable crafts (parents can print out woodland animal masks to put together or a DIY unicorn headband kit) as well as painting classes, tutorials, and drawing courses. New courses, crafts, and materials are added regularly, so parents can continue to check back to see what types of arts, crafts, and lessons are posted online.
Nature's Art Club
Nature's Art Club isn't a free service, but at $10 a month, it's a steal. The service features a monthly painting tutorial that is provided in either a PDF form or an online, step-by-step video tutorial for kids, a series of watercolor outlines to paint in, coloring pages, and worksheets to make the whole affair a bit more educational. As the courses are nature-based, there's also educational material provided that helps kids learn facts about what they're painting.
Thrive Art School
Thrive Art School is an actual art school that operates out of Seattle, Washington, but they have a variety of art lessons on YouTube for kids of all ages and abilities. The lessons are divided between beginner and intermediate artists. The beginner videos help younger kids learn how to draw tropical fish, creative castles, puppies, and dogs; the intermediate lessons provide instructions on how to draw octopi, water lilies, and lions.
Video School Online
The vaguely titled "Video School Online" offers tons of different classes for students of all ages — from photography to 3D printing. But, for those who just want to have some creative fun time, parents can enroll their child in Lori Lee Ebiner's art class for beginners and kids. The $10 course contains eight different art projects that cover different skills, from drawing, painting, to mixed media work. As far as supplies are concerned, kids only need a pencil, eraser, watercolor paint set, colored pencils, oil pastels, paper, scissors, and glue, and will get to work on projects titled "Entertaining Elephants," and "Brewster the Rooster" among others. Each class contains an introduction to the project, a supply list, and a printable instruction sheet so students can follow along with, and pause, Lori's videos as necessary.
Udemy
For kids that are getting serious about drawing and painting, Udemy offers art classes that are geared towards adults but cater to different skill levels. For around $15 to $20 per course, kids can learn specifics like the basics of watercolors, drawing anime, making soap, and even drawing on an iPad. Each course has a series of short lectures (some have 11 lectures, others over 100) that kids can complete at any time, plus articles and downloadable resources.
Every product on Fatherly is independently selected by our editors, writers, and experts. If you click a link on our site and buy something, we may earn an affiliate commission.
This article was originally published on