Old Enough On Netflix: The Must-See Adorable Japanese Reality Show About Kids
A new feel-good show for the whole family.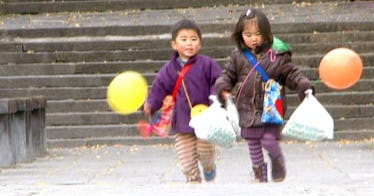 Nippon TV
The most adorable reality show on Netflix has been a hit in Japan for 30 years. Back in 2022, Netflix announced it recently acquired a Japanese show titled Old Enough! which debuted on the platform today. It's a great show for both kids and parents alike.
Old Enough! is an unscripted reality-style series that's been a top show in Japan for over 30 years. The premise of the show is watching kids go on everyday adventures, running errands for their parents, all on their own.
Each episode is 30 minutes long and centers around one kid or a pair of siblings who are on errands like going to the grocery store to pick up milk or picking up something from a car repair shop. The kids are recorded using a hidden camera crew who stick close to watch and record how the kids fair on their first adventure on their own.
The kids are probably younger than what most American parents would feel comfortable sending their kids out on their own — with the age ranging between 2 and 4 years old on Old Enough! But they're not completely on their own.
"In all cases, the producers meticulously gather research from parents and parental organizations, and parents decide the appropriate challenge for each child," TBI Vision explains. "When the children hit the streets, it is always under the watchful eye of hidden cameras and the show's safety team, who are disguised as joggers, passers-by, or gardeners."
Netflix has two seasons of the show, consisting of 30 episodes. series and it's been made available to more than 190 territories and will be available to watch in 32 languages. Netflix has rated the show TV-G and tagged it as a "feel good" show which means it's perfect for a general audience, including younger kids.
Old Enough! is available to stream on Netflix now.
This article was originally published on