One Controversial '90s Band Might Reunite For A Surprising Reason
There's a chance one of the biggest '90s bands could have a reunion after all.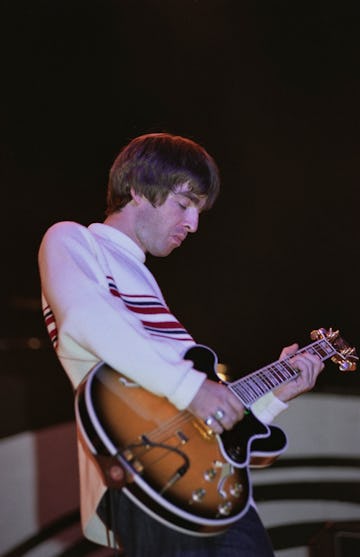 Brian Rasic/Hulton Archive/Getty Images
After 14 years, there's suddenly a glimmer of hope that the long-feuding brothers of the Britpop band Oasis might have some kind of reunion. But why would one of the most tempestuous rock bands in history suddenly reform after so long? The answer might be simple and complicated.
In 2009, after having several other almost break-ups, for nearly two decades, songwriter and guitarist Noel Gallagher quit Oasis in the middle of a world tour. Since then, the lead singer, younger brother Liam Gallagher, formed a side project called Beady Eye, and later started releasing solo albums in 2017. (Liam's third solo album, C'mon You Know was released to rave reviews in 2022.) Meanwhile, since 2011, older brother Noel has released three studio albums (and one retrospective "best of" double album), with his band Noel Gallagher's High Flying Birds. Noel's next album, Council Skies is set to be released on June 2, 2023.
So, if both brothers are doing their own thing, why would they suddenly get back together? For years, Noel has maintained that he would never do an Oasis reunion, while Liam has kept the dream alive that it would happen eventually. And now, Noel, the songwriter, and key to the reunion is starting to change his tune. In a recent interview with RadioX, Noel Gallagher said "Look it's the done thing now isn't it? Kind of everybody's getting back together and Blur are playing Wembley stadium, everyone's getting back together." In the same interview, Noel added that an Oasis reunion didn't appeal to him, but added, "Now that's not saying in 10 years time it won't appeal to me..."
But will it really be another decade before this massive rock reunion happens? According to Liam Gallagher, the reunion will happen "very f*cking soon." Liam attributes this to the fact that Noel will want the money. Some in the UK press have speculated that Noel suddenly saying "never say never," might be because he's going through a divorce with his longtime partner, Sara MacDonald. According to People, this divorce is amicable but some tabloids have speculated that Sara's dislike for Noel's brother Liam was a factor in the reunion not happening sooner.
So, will Noel and Liam Gallagher reunite Oasis for a tour? A new album? Something else? Divorce is very expensive after all. But even if Noel's divorce is not the reason, it seems that after all this time, the two famously feuding siblings might finally be able to not look back in anger.
Oasis '90s nostalgia streaming
You can watch Jake Scott's fantastic new documentary, Oasis: Knebworth 1996 on Paramount+ right here.