Netflix Just Added Tons Of Workout Videos From The Biggest Training Brand
Netflix has paired up with Nike to help make it easier for people to work out at home.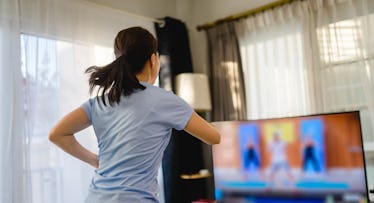 Shutterstock
For many people, a new year means it's time to set new goals, and Netflix wants to help. The streaming giant has teamed with Nike to help with fitness goals. If you want to work out but you don't want to go to a gym, don't have the budget to buy any fancy equipment, and want a variety of exercises, Netflix has a creative solution. Here's how to watch the Nike Workout Videos on Netflix.
What are the Nike Netflix workout videos?
"It's not always easy to motivate yourself to exercise, but the option to feel the burn and then directly transition into one of your favorite shows does have a certain appeal," a Netflix blog post explains. And Netflix wants to help you, so they've launched a new category of titles full of workout videos.
In a new partnership with Nike's Nike Training Club, various workout videos have been added to Netflix.
How many Nike workout videos are on Netflix?
The collaboration will see 30 hours of workout videos on the streaming platform, slated to drop in two batches.
Currently, the first of those two batches are available to the stream, which includes five titles that total 46 episodes. The videos range in length and offer a variety of skill levels, intensity, and expertise.
However, the best thing about the training videos is the only equipment you'll need is a TV that can stream Netflix, some floor space, and a water bottle.
Which Nike Training Club videos are available to stream now?
How to find the Nike Training Club videos on Netflix
If you're interested in trying out the new workout videos, you can search the platform for any of the above titles. Or you can search "Nike," and the videos will pop up. The episodes across all Nike Training Club videos can also be searched by time:
When will more Nike Training Club videos hit Netflix?
The details on when to expect the second batch of Nike Training videos to hit the platform haven't been confirmed yet, other than that they're coming sometime in 2023.
For more details and to keep your eye out for new titles being added, visit Netflix's Tudum blog.