This Underrated 2021 Scary Movie Is The Perfect First Horror Flick For Kids
Want to get kids into horror without traumatizing them? Give Nightbooks a try.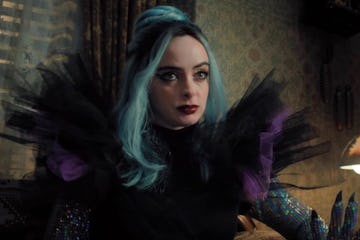 Netflix
Every October, horror people try to get their marathons in order, while non-hardcore horror people are dipping their toes into the genre's deep, dark pool of stories. As a movie genre, horror gains new fans all the time, particularly among young folks, who love the idea of the thrills and chills and spooky atmosphere even if their parents won't let them dive into the deep end just yet.
If you know one of these aspiring young fans — maybe your kids — and you're interested in helping those young people get safely and gently into horror films, you might be wondering where to start. Let's say you have a kid who loves monsters and scary stories, who's seen all the horror-adjacent stuff for kids like Hotel Transylvania and The Addams Family. Maybe they've even given Hocus Pocus and Goosebumps a try. Where do you go next? How to keep your kid steeped in new horror stories without jumping directly to The Texas Chain Saw Massacre?
Well, there are a lot of places to look for just such a story, and the 2021 film Nightbooks is one of them. Spooky, fun, and steeped in horror imagery that's not overwhelming, it's exactly the kind of horror gateway that young (say, 10 and under) kids need to keep them interested in horror without freaking out Mom and Dad along the way.
What is Nightbooks?
Based on the book of the same name by J.A. White, Nightbooks tells the story of a young boy named Alex (Winslow Fegley), an outsider kid who's obsessed with horror stories and has even taken to writing his own in what he calls his "night books." His rejection by his classmates at school, and his lack of friends, are of great concern to his parents, and his inability to fit in is enough to encourage Alex to get rid of his horror habit entirely.
That all changes, though, when he stumbles into the world of a mysterious witch named Natacha (Krysten Ritter), who kidnaps children into her magical, seemingly endless apartment and destroys them when they're no longer of any use to her. When we meet Natacha, she's only got two kids in her care: Alex and Yasmin (Lidya Jewett), who clean the house. Alex is there, apparently, because he's good at writing scary stories, something Natacha is very interested in. If he wants to survive, Alex will have to tell Natacha a different scary story every night, always with a frightening and unhappy ending, which will eventually lead him to face the scariest thing about his own life.
Naturally, the story-within-a-story framework of the film provides plenty of opportunities for all kinds of horror elements to come forward, while the mysteries of Natacha's apartment provide a dark fantasy feel that might remind some older viewers of things like Labyrinth. It's an intriguing mix, and right away it primes viewers for a spooky, visually delightful ride.
How Scary is Nightbooks?
Nightbooks debuted on Netflix in September of 2021, where you can still watch it right now, and landed a TV-PG rating from the streamer. That means, as you might have guessed, that parental guidance is suggested for the film, and it's a rating the movie earns throughout without ever spiking into levels that might make you fear you're hitting TV-MA territory.
Right from the start, there are plenty of horror flavors coming through in the film, from the presence of an evil witch to topics including witches eating children, and even dark life stuff like children who don't seem to have any friends. Natacha's apartment is jam-packed with monstrous little treats, and the appearance of an even older witch late in the film might be the most frightening scene of all thanks to the old crone's jerky motions and monstrous appearance.
But even with all of these elements in mind, the great thing about Nightbooks is that the filmmakers never lose sight of their audience. This is a spooky movie for families, which means that even the most frightening bits of the story are peppered with fun touches. Natacha dresses like a witch, but she also dresses like she could be rollerskating through a disco, peppering her look with bright colors and shimmering fabrics. The apartment is full of scary things, but also full of magical fantasy wonder that might make some kids wish they could move in. And of course, there are moments of levity peppered throughout to remind kids that we're all having fun here.
So while Nightbooks definitely benefits from a little parental guidance, all but the most squeamish of kids will probably have a ball with it.
Why is Nightbooks a Great First Horror Movie?
Obviously, the family-friendly nature of Nightbooks is key here. It's designed to be a film that horror-curious kids can watch with their parents, with their friends, and even during sleepovers where no one wants to get too frightened in the middle of the night. It's just that kind of movie, and its modern style will definitely appeal to kids.
But there's more to this story that makes it a great first horror film. Above all, Nightbooks is a film by horror fans, for horror fans. Alex is, from the very beginning, one of us, a kid steeped in scary stories and monster lore. He loves this stuff, even when the world tells him that it's weird, that he's weird, and that he should maybe give it all up. Throughout the film, Nightbooks reminds Alex, and by extension the kids watching at home, that his weirdness, his love of horror, is in fact a superpower. It's a thing that makes him special, something he's passionate about, and that should never be discarded in favor of fitting in.
In other words, Nightbooks is both a love letter to horror and a love letter to being yourself, and that makes it great for horror-loving kids everywhere.