60 Years Later, The Most Immortal Kids Book Ever Gets A New Narrator
Decades later, this bestselling book remains on top of the charts, and this new audiobook brings it to a new generation.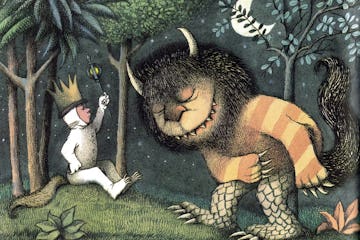 HarperCollins
The classic picture book Where the Wild Things Are has tucked children into bed for nearly six decades, an award-winning classic with unforgettable illustrations that has become Maurice Sendak's signature work. Fearsome monsters (who also look quite cuddly) causing a rumpus with their castaway child king, the book tells the tale of how a child and a parent deal with their anger in negative ways, and ultimately come to terms with their feelings. Today, it continues to be one of the most recognizable children's books that is passed down across different generations. To celebrate this upcoming milestone, a new version of this picture book is being released in a very special way.
This Halloween, October 31, 2023, HarperCollins Publishers is set to release a new audio version of Where the Wild Things Are: Unabridged Audio Edition. Narrating this audiobook will be Former First Lady Michelle Obama.
The Obama family has a long history with Where the Wild Things Are. During the Obama administration, reading this book to groups of kids was a favorite part of their annual White House Easter Egg Roll. You haven't lived until you've heard a U.S. President and First Lady gnash their terrible teeth and shout their terrible roars!
Mrs. Obama earned a Grammy in 2020 for the audio version of her memoir, Becoming, and earlier this year became a podcaster with her show, Michelle Obama: The Light Podcast.
Throughout her time as First Lady and beyond, Obama has been active in promoting literacy and reading to children across the country. She has listed Where the Wild Things Are as one of her favorite kids' books, along with Goodnight, Moon, and has been reported to know all the words to Eric Carle's Brown Bear, Brown Bear, What Do You See? by heart.
The next few months will be a prolific time for Sendak, who passed away in 2012. In addition to this new audio edition of Where the Wild Things Are, HarperCollins will also publish a completely unseen work from this author. Ten Little Rabbits began as a small pamphlet for a museum fundraiser and is now being released for the first time ever to the public. This adorable book about a young magician and his fluffle of enchanted bunnies is a simple counting book intended for four to eight-year-olds, and features the iconic Sendak illustrations that helped his books gain renown. Several other rare books from the Sendak catalog will also be reissued throughout 2024.
The new Where the Wild Things Are: Unabridged Audio Edition will be available on October 31, 2023.