Netflix Password Sharing Is Over, But You Can Still Share On These Other Streaming Services
The golden age of streaming is over. Long live sharing with friends.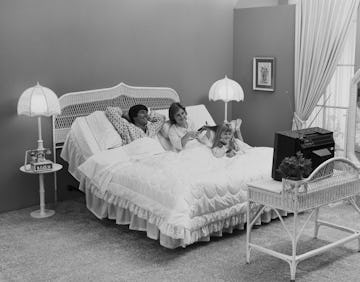 Tom Kelley Archive/Retrofile RF/Getty Images
Things were simpler back in the good ol' days of cable or satellite television. One box, one account, one remote, and most importantly, one bill. That was all we had to contend with — except for commercials, of course. But since most of us were raised never knowing any differently, we just accepted commercials as the cost of watching Thundercats on Saturday mornings or MTV after school.
Things have gotten a lot more complicated. While the beginning of streaming felt like a revolution — cheaper than dirt, compared to cable — every single media entity now has its own streaming service that just keeps getting more expensive.
Multiple rounds of price hikes from all the big streamers have made a once somewhat affordable service one that could cost you hundreds a month, depending on how many services you subscribe to. And with Netflix cracking down on password sharing, and reportedly planning on raising their prices again, and Disney+ signaling that they will be doing so soon, too, you might be wondering where it's time to cut the second cord — the streaming cord.
Is it time to cancel some of your streaming services, lest you pay a few hundred a year just to watch Ahsoka in one week? Yes, maybe. But you may not have to. Before you dust off the DVD player and start collecting Bluey DVDs (which you should probably still do) there are plenty of streamers that allow multiple households to have one subscription, if you want to team up with grandma and grandpa or your nice parent-friends around the block. In other words, you might not need to kick AppleTV+. You may just have to share it instead.
Streaming Services that Allow (or at Least Don't Punish) Password Sharing
Sharing is caring.
If your account was affected when Netflix put the kibosh on password sharing earlier this year, chances are you went looking for other options and probably found quite a few.
Since streaming services don't require contracts, the practice of subscribing to a service to binge a show and then canceling the subscription until more content is released has become commonplace, so services are all looking for carrots to dangle to keep those subscriptions active. That being said, here's the breakdown — who allows account sharing among households, who seemingly doesn't care, and what you can expect to pay for the ability to binge the upcoming Loki Season 2 or keep your little one occupied with Bluey.
Amazon Prime Video
Prime Video is a unicorn in the world of streaming, allowing up to six people to share one account through a benefit called Amazon Household. Three devices can stream simultaneously, and members of a Household can also share other Prime benefits like digital content and two-day shipping. Amazon Prime Video is currently $8.99 a month, but in 2024, if you want no ads, you'll have to pay $2.99 more a month. Amazon is also your best bet for watching shows like Daniel Tiger and Dinosaur Train with the PBS kids add-on.
Hulu
Another established streaming service, Hulu, has been around since the early days of cord-cutting, but Disney took over majority ownership in 2019. Currently, it's a standalone service, but there are plans to merge the two platforms completely by the end of the year, so things could change regarding their stance on password sharing.
A stance that is surprisingly generous, all things considered, Hulu allows five profiles per account but only two concurrent streams, so you can only watch on two devices at once.
Hulu offers two tiers at different price points: Basic, which is $7.99/month with ads, and the same service with mostly no ads, for $14.99/month. They also offer a variety of bundles with Hulu, live TV, Disney+, and ESPN, with or without ads on each service individually. Bundles begin at $64.99 and go up to $84.99 per month. Per the Hulu website, prices for these bundles will all increase by $7.00 per month on October 12, 2023.
Paramount+
Home to popular shows like Yellowjackets and Billions, the entire Star Trek franchise, all the Yellowstone spinoffs, not to mention Paw Patrol, Dora the Explorer, and a host of other Nickelodeon shows; Paramount+ is a relative newcomer to streaming. Launched in 2017 as CBS All Access, the streamer rebranded as Paramount+ in 2021. It states explicitly in the terms of service that users can have up to three simultaneous streams and allows six profiles. The ToS also states that Paramount+ can change this policy at any time. You can expect to pay $5.99 per month for the service or $59.99 per year.
AppleTV+
Launched in 2019, AppleTV+ has cornered a fairly large segment of the streaming population thanks in no small part to the service's integration with iOS. Apple currently allows up to six profiles through its Apple Family Sharing, and up to three devices can watch the same channel concurrently. It's about $7 a month. Also, it has some of the greatest TV shows that not enough people are watching including The Newsroom, Foundation, and For All Mankind. It's also the only place families can watch all the Peanuts specials, including It's the Great Pumpkin Charlie Brown.
Streaming Services that Do Not Allow Password Sharing
Max, the new combination of HBO and Discovery+, and Peacock, NBC's streaming service, explicitly state that passwords should not be shared between households. Both services allow multiple profiles and streams on each account, but streams must be from the same household.
Netflix obviously famously does not.
Disney+ may be about to pull the rug under families that might share their accounts. On November 1st, they will update their user agreements to not allow users to share their accounts/subscriptions outside of their households "unless otherwise permitted by their service tiers" in Canada and will reserve the right to terminate accounts that share passwords. Let that sink in: In Canada, Disney+ would rather not take your money at all, if it means you're sharing passwords.
Disney+ might offer "options for account-sharing outside a primary user's household," per Variety, so it's possible that some form of account-sharing could exist in the future — but for an extra fee, just like Netflix did, effectively ending password sharing.
A few smaller services also allow password sharing but don't expect a huge variety of content like you would with Netflix or Disney+. Crunchyroll, which deals primarily in anime, allows password sharing, and FUBO, a popular sports destination, allows up to ten streams at once as long as they all originate from the same ISP. If you stream FUBO from a device other than a television, you can watch three concurrent streams.