Families Are Spending An Absolutely Absurd Amount Of Money On Halloween This Year
Halloween is back, baby. People are getting ready to shell out the big bucks.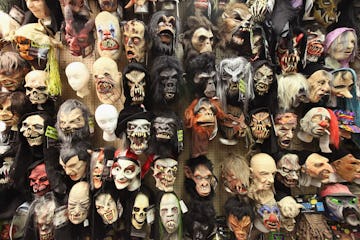 Scott Olson/Getty Images News/Getty Images
On September 20, 2023, the National Retail Federation — the world's largest retail trade association — released research that revealed that Halloween is back. Not 'back' as in it's just a few weeks away and we're all getting candy and figuring out costumes and planning our child's trick-or-treat routes, but back as in we're going to be spending more than ever to make sure our kids (and we) have fun. Just how much? Almost $110 per person, or about $433 for a family of four — costumes, candy, and decorations included.
To gather data for the survey, the NRF spoke to 8,000+ consumers about how they planned to shop for the holiday — and whether or not they planned on celebrating. All data suggests that this year is going to be a blowout for Halloween. Seventy-three percent of those surveyed said they will celebrate somehow, from handing out candy to ne'er do well trick-or-treaters, to putting costumes on, to throwing a party.
Sixty-nine percent of respondents are buying costumes — no costume repeaters here, folks! — but Halloween decorations are king: 77% of folks who responded will buy something for their lawn or their house — maybe a massive Home Depot skeleton? Or one of those flattened witches you attach to your tree?
Our American commitment to getting spooky shows in overall spending: the NRF's research suggests that Americans will likely spend $12.2 billion on Halloween festivities and accouterment alone this year — well over last year's also-record-projected-spend of $10.6 billion.
But how much will you have to shell out on your kid's costumes, candy, and more? Let's put it this way: you may want to consider re-wearing last year's costume, going DIY, or plopping your youngest in that baby lion onesie their older sibling used a few years ago — they won't remember it anyway. Otherwise, get ready to spend more than ever. NRF data found overall spending for adult costumes has increased by 18% over last year, and for kids costumes, by 20%.
When asked how much they spend to plan on Halloween this year, consumers planned to shell out almost $110 per person on Halloween. Yes, that includes costumes, candy, and decorations, and yes, that means that for a family of four, you could be shelling out almost $433 total to go all out. That's almost $31 more than last year for the whole family, and way up from just 10 years ago, when families were expecting to spend just $75.03 per person, costume, candy, and all. As for how much parents plan to spend on costumes, they're ready to shell out about $37 per person, kids and pets included, making costumes an endeavor that costs almost $150 in total.
As for what types of (apparently expensive) costumes are flying off the shelves, it turns out that kids and adults alike are dressing (mostly) as the same things. The 5 most popular costumes this year for kids include Spider-Man, princess, ghost, superhero, and witch, in that order. Meanwhile, adults aren't so different, with witches, vampires, Barbie, Batman, and cats rounding out the top five.
For the full report on Halloween spending and costumes, check out the National Retail Federation.