Natalie Portman Is Totally Jacked, Ready to Replace Thor in New 'Love and Thunder' Trailer
The Portman hammer is coming down.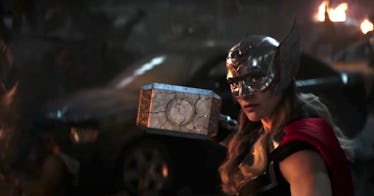 Credit: Marvel
You better pay for her dry cleaning! The first official trailer for Thor: Love and Thunder finally debuted online and the internet is going nuts for the whole thing, but everyone is specifically freaking out about the utterly jacked Natalie Portman — back as Jane Foster — swinging that hammer like a boss. Can Portman replace Hemsworth as the new Thor? Seems like…maybe?
The last time we saw Thor was his dad bod phase in Endgame when he teamed up with Guardians to explore the Galaxy and it looks like the God of Thunder might be having a bit of an identity crisis. He declares that his "superhero-ing days are over" and seems to be fully entering his hippie retirement phase, which is great. We all loved the Lebowski phase for Thor!
But, more broadly, could all this really mean that Thor's time in the MCU is coming to an end? It's certainly possible, as he is one of the only OG Avengers left and after spending more than a decade playing Thor, Hemsworth might be ready to move on and enjoy a post-superhero retirement of his own.
If Thor really is ready to put down his hammer, it looks like Love and Thunder might be setting up his replacement with the return of Thor's ex Jane (Natalie Portman), who makes an appearance at the end of the trailer. But honestly, you might need a minute to recognize her, as she is now full Mighty Thor mode, including being totally jacked, wearing a badass helmet, and casually wielding Mjolnir. She looks awesome! (Have we mentioned how much we love her last children's book?)
Jane isn't the only potentially major character to pop up in the trailer, as there appears to be a brief glimpse of Zeus (Russell Crowe), the king of Mount Olympus, holding a lightning bolt. This has caused some to wonder if Love and Thunder may also introduce Hercules into the MCU, which has been rumored for years. But there's no official sign of him yet, so it's just speculation at this point. Either way, if we're lucky, Portman will pen another children's book adaption, this one all about her version of Thor. Now, all we need is her def posse to show up, too.
Thor: Love and Thunder will be released in theaters on July 8, 2022. We expect the soundtrack to slap.
This article was originally published on