How to Plan a Complicated Family Reunion Vacation
Multiple generations getting together in the post-COVID world? Mass hysteria!
by Elizabeth Heath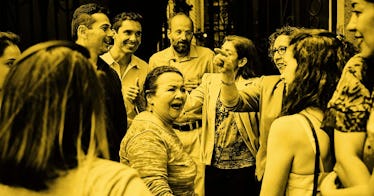 This year, some family vacations are doing double duty.
The pandemic put the brakes on travel and kept many families separated for months. Now, with vaccine rates increasing and the world reopening, plenty of people are considering combining reunion with vacation.
Instead of gathering in Grandma's backyard (no knock on Grandma's house), they're planning group getaways. Multigenerational trips can be exciting—and also ensure that one host or household doesn't get shouldered with most or all of the entertaining, cooking, and fun planning.
But if your travel plans involve bringing together several branches of the family, including your parents or in-laws, adult siblings, and assorted kids of various ages, this mission calls not just for planning, but for a plan of attack. (My grandmother used to call them "family rebellions" for a reason.)
Here are some of our top tips for how to plan a great multigenerational vacation that keeps everyone happy and engaged.
Hash Out a Budget
In some lucky families, there's a grandparent willing to foot the bill for a big vacation. But absent a relative with deep pockets, one of the first things that everyone has to agree on is a budget. Your destination, accommodations, activities, transportation, and more will all hinge on how much your family is collectively able (or willing) to spend.
It may sound simple, but this can be a tricky, emotionally charged subject. Earning gaps among adult siblings can be a source of guilt, shame, resentment, and tension. Some family members may want to splash out, others may be in savings mode.
The upshot: Everyone needs to tread lightly.
If you're financially better off than some of your relatives (especially siblings) you have several options. You can lower your budget to match theirs or offer to pay part of a sibling's share. You can also plan a holiday where everyone pays a base amount for accommodation, but extras, like theme parks, tours, and costly outings, are handled on a pay-to-play basis.
Are you on a more restricted budget? Speak up early on. Make it clear that if most of the group insists on a more expensive vacation, you and your family will either not be able to participate, or will join the trip but have to opt-out of many activities. Hopefully, they'll be sensitive to your needs.
Decide on a Destination
It's important to choose a destination that has something for every member of the family.
"Grandpa might be paying for it, but it's a vacation for everyone," says Dan Austin of Austin Adventures, which specializes in group and custom adventure tours. "You have to keep everyone in mind. A 2-year-old can't keep up with a 16-year-old."
Though he's admittedly biased, Austin says professional help can be invaluable. If you take an escorted tour with professional guides, for instance, they can divide the group between the smallest kids, teens and adults, and keep everyone active and engaged.
"There has to be something for little kids to do," agrees Pauline Frommer, co-president of Frommer Media. Las Vegas, for instance, may be a fantastic adult playground, but can be one of the worst options for a multigenerational vacation, she says.
Though they're going to be crowded this summer, Austin is a big fan of U.S. National Parks as multi-gen vacation destinations, especially Yellowstone. "There's something for everyone there," he says, "including geothermal attractions, park history, outdoor activities, and wildlife, and the park is well-designed for handicapped access."
Choose Your Adventure
Reunion vacations can take almost any form you like—from a simple camping trip to a lavish private-island getaway. If keeping things easy is a priority, there are three main kinds of trips you'll want to consider: a cruise, a vacation rental/villa, or an all-inclusive resort. All three have their pros and cons.
Cruises
Frommer remembers a family cruise to the Mediterranean that her father, travel pioneer Arthur Frommer, organized for a milestone birthday. The group included Frommer, her husband, and two young children, Arthur Frommer and his wife, plus the wife's adult children and their kids.
"Because it was a cruise, we were together every night at dinner but during the day, we had our own time apart so that it didn't feel stifling," she recalls, "I was dreading it, but a cruise was actually ideal for this type of gathering."
Other advantages of taking a cruise: many costs are clear upfront, and meals are included; each family can have its own stateroom, and mainstream cruise ships offer activities for a variety of ages. Among the downsides are that rooms can be small (and upgrades expensive) and ships can be crowded. Shore excursions, alcohol, and other perks usually cost extra and can be quite expensive. Plus, not everyone will feel comfortable taking a cruise soon after the pandemic.
Vacation Home and Villas
For some, a large vacation rental or villa is not just the perfect multigenerational getaway—it's also a bucket-list entry. You can rent a sprawling beach house, a French chateau or a Caribbean hideaway.
The per-night cost of a vacation rental can be more affordable than a hotel—though it can also be sky-high, depending on the season and destination. Cooking meals rather than going out saves money and brings everyone together. Rentals can come with pools, game rooms, media rooms and even dedicated staff. And there are homes available all over the world, even in places where there are few hotels.
But you should definitely consider family dynamics when deciding whether to rent a villa together. While some clans enjoy having everyone under one roof, for others it's just too much together time. Families may not be in sync on chores, wake-up times, or kids' eating habits or behavior standards. And instead of just agreeing on what time to meet in the cruise-ship dining room, you'll have to delegate shopping, cooking, and cleanup, plus split all the ancillary costs fairly.
All-Inclusive Resorts
All-inclusives have a lot going for them on the multigen front. You pay for almost everything upfront, and don't have to worry about tipping or most meals. There's usually lots to do, and you can choose a resort that has exactly the amenities your family is looking for, whether that's a golf course, multiple swimming pools, or a kids' club that will keep children busy while adults get some spa time. Different households can stay in their own rooms or suites and come together for mealtimes or activities.
On the downside, some travelers can feel "trapped" at resorts, especially if there isn't much to do in the surrounding area. Food and accommodation quality can vary widely. And off-property excursions, as well as some land and water sports, ususally cost extra.
Keep Safety in Mind
As the Covid pandemic abates, more countries are opening their borders to travelers— which means families have a lot more options for a reunion vacation. But everyone in the extended family group has to feel safe about the destination, especially when unvaccinated children will be along for the ride.
You and yours may feel safe going to Mexico, while a sibling may not feel safe even putting his family on a plane just yet. Or your parents may think it's a great idea to reunite the family at a Disney resort, while you're uncomfortable being in crowds.
Like budgets, a sense of safety and security is another area where compromise is essential—especially in the age of Covid. It's tough to get a big family group to agree on where to go to dinner, much less where to go on vacation. But if everyone can approach your multigenerational vacation with a spirit of collaboration and a sense of adventure, it can be a memorable reunion of the entire family—in the best of ways.
This article first appeared on The Expedition. Check out The Expedition's travel subscription deals here.