What?? The Most Popular American Video Game Ever Is 23 Years Old
A new map reveals that one Y2K game is going strong.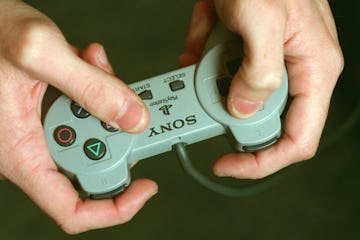 Robert Lachman/Los Angeles Times/Getty Images
There are so many title options in the world of video games, and like movies, everyone has their favorite franchises. But have you ever wondered which video game was America's favorite? Well, we finally have the answer, and it turns out the winner is a certified Y2K classic — but there are others, too, and we have a map to prove it.
Guide Strats wanted to know which video games were the top favorites in each country around the world. To do this, they analyzed 20,000 video games, categorized by the country they were developed in. From there, they referenced each title with its Metascore, a site that aggregates reviews of films, television shows, music albums, and video games and assigns a weighted average—the higher the number, the more loved that piece of media is.
After cross-referencing the Metascore of each video game, Guide Strats "manually verified the developers behind each country's 'highest-rated video game' to ensure it was the developers and not the publishers or other departments that were associated with the video game."
They sorted and sifted through the data, compiled the best games that had at least a Metascore of 40 (anything under that is considered to be "generally unfavorable" or to have "overwhelming dislike," which means it has no business being on a "best of" list), and put all that information in an easy-to-read map — so you can find out if your favorite video game is the same one that came out on top for your country.
There were some interesting takeaways after Guide Strats compiled and sorted all the numbers:
The highest-scored video game got a near-perfect Metascore of 99, which went to The Legend of Zelda: Ocarina of Time.
In the United States, its highest-rated video game with a score of 98, goes to the '00s game Tony Hawk's Pro Skater 2.
In Canada, the top video game was Mass Effect 2, with a score of 96.
Grand Theft Auto IV came close to perfect with a Metascore of 98, landing the highest-rated game in Europe.
A lot of the games on the list aren't supertitles, which means there's so much more to discover. For example, in Romania, the highest-rated game is called N.O.V.A - Near Orbit Vanguard Alliance, and in New Zealand, its top game is called Wooords.
According to Guide Strats, experts are thinking the AI revolution will open a whole new door for video game developers and fans—making it easier to create cooler stories and graphics, even smaller indie
"Hopefully, this will mean more games from countries and demographics whose voices gaming culture rarely hears," Guide Strats says. "Meanwhile, reviews and aggregated scores like those on Metacritic ensure the best games get seen and played, no matter where they come from."
You can check out Guide Strats data breakdown to discover more games from across the globe.