Netflix Has Finally Done A Great Adaptation Of One Of The Best Kids' Stories Of All Time
The Monkey King comes to America.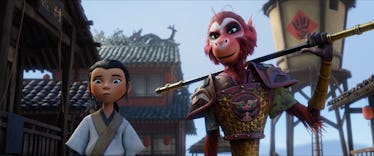 Netflix
The story of the Monkey King, a monkey born from a stone who gains a plethora of superpowers, immortality, and notoriety, is one of the most well-known tales in the world — although you might never know it here in the United States. Monkey is the main character of Journey to the West, a massive and massively popular 16th-century Chinese novel. However, despite practically every Chinese school child being familiar with Monkey, and despite numerous stage, screen, and many more multimedia adaptations, he's never really broken through and achieved anywhere near the same level of popularity in America.
"Until now," says Peilin Chou. Chou is the producer of the new Netflix animated film The Monkey King, which is streaming on Netflix as of Aug. 18, 2023. Speaking to Fatherly, Chou admits that there are reasons why Journey to the West has, well, struggled to make its own journey to the West. But she and director Anthony Stacchi, along with a cast that includes Jimmy O. Yang, Bowen Yang, Stephanie Hsu, and BD Wong, are hopeful the Netflix movie will give Monkey some of the attention the legendary figure himself would crave, and hopefully, make The Monkey King into a classic children's movie.
"Prior to this, I had been at different studios, and at every studio, me or somebody else had tried to develop Journey to the West," Stacchi recalls. "And the reaction from the people at the studio was, 'It's too complicated. The monkey is too unlikeable. It's incomprehensible to people who haven't grown up steeped in the culture of it.' So there was a lot of resistance to doing it."
"The Journey to the West novel is famously dense," Chou says. It's 100 chapters long, spans centuries, and each chapter could be a movie on its own — assuming the audience was familiar with the larger story. Chou continues: "In China, you know, you could make a movie out of just Chapter Seven, 'Monkey Versus the White Bone Demon,' and everyone there growing up with it would know what that means and wouldn't need any context or intro. But, playing to the globe, people would be very confused."
Netflix's The Monkey King attempts to address some of these concerns by positioning itself as a clear origin story, adapting just the first seven chapters of Journey to the West. There's more than enough in those first few chapters for a full movie, though. The film follows Monkey (Jimmy O. Yang) after he hatches from a rock and, after some cutesy cuddly sequences where he tries (and fails) to fit in with normal monkeys, grows up and attempts to become a god, battling demons, other celestial powers, a nefarious plot by the Dragon King (Bowen Yang), and attempts to obtain immortality, too.
Joining Monkey on his quests are Stick, a legendary and powerful staff he wields as a weapon, and a young human girl named Lin (Jolie Haong-Rappaport). Both characters will be new for viewers who are familiar with Journey to the West. Stick, "voiced" via Mongolian throat-singing from composer Toby Chu, is anthropomorphized to an extent, giving Monkey a constant companion to banter with. (Stacchi says Netflix wasn't convinced Stick had the "gravitas" to be a mythical weapon alongside the likes of Thor's hammer or Excalibur until they heard Chu's take on the artifact.) Lin, meanwhile, is a totally new creation who is not in the centuries-old book.
"She's totally unique to our movie, in the hopes that she would serve kind of as an entry point into the film for those not familiar with the novel and the characters and the world," Chou explains. "When an audience is seeing this world and characters for the first time, Lin is also seeing and reacting to it for the first time."
Lin also serves another very important purpose: Monkey is, famously, a huge egotistical jerk. Though he eventually becomes a polite primate, that happens near the end of the 100-chapter novel. "If we're ending at Chapter Seven, he can't turn into an all-good, enlightened being by the end of the movie," Stacchi explains. "And there's a bit of resistance to that in Western kids' movies, where he doesn't completely turn into a good guy by the end of the movie."
Through his relationship with Lin, though, Monkey does achieve character growth, even though he's still a hot-headed rapscallion by the film's end. Monkey's personality might've been hard for past studios to get their heads around, but Chao says "the original anti-hero" is actually very appealing to kids.
"Kids love that he is naughty and never paying attention to authority and doing whatever he wants all the time," she says. "He's kind of like, you know, a classic toddler."
The Monkey King has some things going for it that might finally bring awareness to the iconic tale in this hemisphere. The dense lore of the story — much of which is jam-packed into the film despite its limited scope — is perhaps a feature, not a bug, in an era when the average Marvel-liking kid knows what a multiverse is. "The denseness of it, the gods, the worlds — kids also tend to be much more willing to go with the flow," Chao says.
With an art style that is a piece of the post-Spider-Verse explosion of what CGI animation can do, one that Stacchi says was largely inspired by Chinese brush painting, The Monkey King feels like a modern movie. Part of that credit goes to executive producer Stephen Chow, a Hong Kong filmmaker best known for zany movies like Shaolin Soccer and Kung Fu Hustle, and who had previously played Monkey during his time as an actor. Chow's movies have a "chaotic satirical sense of humor," and the filmmakers say Chow emboldened them to have the same unexpected, occasionally anachronistic approach to The Monkey King.
Monkey's initial quest of defeating 100 demons, as seen in the new film, might just be paltry compared to attempting to break through in the crowded kids' movie genre, especially on Netflix, where movies frequently seem to come and go. But The Monkey King has 430 years of history behind it, not to mention a cast and filmmakers who worked hard to make the beloved Chinese story exciting to American kid audiences. And, if it's a hit, there's the benefit of 93 as-yet unadapted chapters of Journey to the West that could serve as sequel material. Monkey has many more adventures to go on and a lot more growing to do.