MILF Manor Is A Real (And Far Less Funny) Version Of 30 Rock's MILF Island
You haven't even begun to cringe.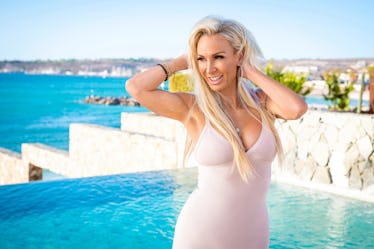 TLC
If the sleaze merchants behind the TLC dating show MILF Manor had any shame, they'd refrain from giving the world a real version of a beloved gag from the second season of 30 Rock. Yes, MILF Manor is a real reality show, one that 30 Rock predicted 15 years ago. How is an absurd spoof from 2008 now the reality of 2023? What kind of bizarro world are we living in?
On April 10, 2008, the 30 Rock episode "MILF Island" parodied the ratings-blockbuster Survivor with the titular fake reality competition. It breathlessly and effectively sold as a no-holds-barred sexual rumble pitting "25 super hot moms" against one another in pursuit of "50 eighth-grade boys." In the absurdist world of Tina Fey's show-business comedy MILF Island was hilarious because it represented a seeming nadir not just for television but for Western civilization as a whole. It's the worst of the worst, and consequently extraordinarily popular.
The world of reality television, however, is a realm without shame, self-consciousness, or dignity. So TLC decided to give the world MILF Island but less funny and somehow even more horrifying in the form of MILF Manor. The mother lovers of MILF Manor are not in the eighth grade. Thank God! So the premise is not illegal. It's merely gross.
Before MILF Manor can horrify even jaded souls who deliberately choose to hate-watch something called MILF Manor, we're introduced to the low wattage and mildly underwhelming MILFs, eight single mothers with plastic surgery-engineered bikini bodies between the ages of 43 and 60 who come to a mansion in Mexico looking for love or at least sex with men young enough to be their sons.
At the wholesome end of the spectrum, there's a grieving mama who poignantly says that she's appearing on a uniquely sleazy dating and sex show as a tribute to her beloved daughter, who died at 26 and was apparently, and unfortunately, a big fan of shows like this. There's also an even more misguided soul who professes to be on the show because it's part of God's plan for her. On the other end are shameless vixens who posit themselves as voracious, insatiable man-eaters with a fiendish hunger for the muscle-bound flesh of men barely past the drinking age and consummate reality show villains.
MILF Manor pretends to challenge the cultural double standard that a man in his 50s or 60s who has sex with much younger women is a stud and a playboy to be admired and emulated while older women who lust after younger men are embarrassing and desperate. Nice try. MILF Manor's attitude towards sexually aggressive 50-somethings is instead filled with judgment, anxiety, profound discomfort, and something approaching existential terror for reasons that eventually become horrifyingly apparent. It's sex-positive, but only in the sense that it is positive that young studs having sex with cougars is unnatural — a weird something that will entertain the rest of us.
MILF Manor's first episode introduces a twist that would go too far even for the writers of 30 Rock. The eight 20-something hunks with six-pack abs and rippling muscles who the MILFs are expected to date and have sex with aren't just young enough to be the MILFs' sons: they literally are their sons.
That's right: MILF Manor has sexy, sexy mothers, and their sexy, sexy sons live in the same suites, compete on the same reality show, and be part of the same dating pool. A wet dream for horny young men looking to hook up with experienced, sexually aggressive older women turns into an Oedipal nightmare where clearly traumatized young men are confronted with not just the possibility, but rather the inevitability, that one or more of the barely-legal hunks they're hanging out with will soon be having sex with their mothers.
If ever a show needed a funny, accessible host to explain the rules of the competition, make jokes, undercut the unrelenting sleaziness of the whole affair, and act as an audience surrogate, it's MILF Manor. Yet this uniquely soul-crushing affair inexplicably proceeds without a host. It tosses audiences into some seriously dark, deep, scummy water and hopes that they can swim.
The hunks of MILF Island have all spent long, hard decades trying to accept that their extremely attractive mothers are not just sexual beings but voracious sexpots who specifically want to have sex with boys around their age.
MILF Manor makes their fantasies a horror show by forcing them to confront their mothers' raging hormones and super-charged libidos. By appearing on the show, they're essentially entering into a Faustian bargain: the price of being able to have sex with other dudes' sexy moms with a clear conscience is accepting that the bros you're partying with might give your own mother the kind of sexual satisfaction she never even dreamed possible.
The first test challenges blindfolded mothers to identify their sons solely by touching their torsos. As moms stroke and fondle buff male bodies, hoping that they don't accidentally get turned on by the musculature of someone they gave birth to, it's hard to fathom there's a real audience for this.
If there was any justice in the world, MILF Manor would get canceled halfway through the airing of its first episode. It justifies its reputation as the worst of the worst. It belongs in the pantheon of all-time reality show disasters like Kid Island, I Wanna Marry "Harry," Joe Millionaire, and Am I Hot?
MILF Manor doesn't just make you feel sorry for its cast: it makes you feel bad about humanity as a whole. It's no MILF Island. It's somehow even worse.
MILF Manor airs on TLC.