Pixar's Lightyear Apparently Fixed a Controversial Moment After The Fact
A lot of backlash had to happen first, but it's a step in the right direction.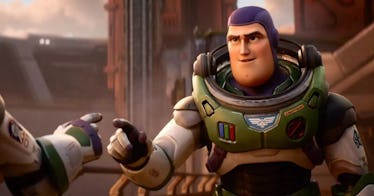 Disney/Pixar
Disney Pixar has changed their minds again about a controversial moment in the movie Lightyear. The higher-ups restored a scene that they had previously decided to scrap after employees staged a walk-out and the company faced backlash for the decision. Here's what happened.
According to Variety, Pixar has reportedly added back a same-sex kiss scene that was cut from the upcoming Buzz Lightyear origin story. The change of heart and decision to add the quick scene back in came after employees at Pixar Animation Studios sent a statement calling out the leadership at Walt Disney Company.
In the statement, the employees claimed executives had actively censored "overtly gay affection" in its films – even before Lightyear. The letter explained that "even if creating LGBTQIA+ content was the answer to fixing the discriminatory legislation in the world, we are being barred from creating it."
The letter was sent in response to widespread anger at the Disney corporation for its non-response to Florida's Don't Say Gay bills, which bans talking about anything related to LGBTQ+ people in elementary schools in the state. People were outraged not only at the company's silence but it was also revealed that the company donated money to the election campaign for Republican governor Ron DeSantis, who signed the Don't Say Gay bills into law.
It appears that in response to the backlash, and the CEO of Disney, Bob Chapek, vowing to do better to support the LGBTAI+ community moving forward, the scene was added back. And while it's a little "meh" for needing so much protest for the company to do something as small as adding back a quick scene to a movie, it's definitely a move in the right direction.
"The decision marks a possible major turning point for LGBTQ representation not just in Pixar films, but in feature animation in general, which has remained steadfastly circumspect about depicting same-sex affection in any meaningful light," Variety writes.
The action-adventure film, Lightyear, is set to release in June.
This article was originally published on