LeVar Burton's Slick New Book Club Isn't For Kids
But you don't have to take our word for it. Listen to a message from the man himself.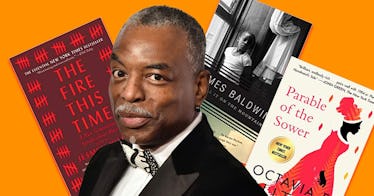 GETTY
LeVar Burton is suddenly everywhere, and doing everything. Burton, the star of Roots and Star Trek: The Generation, as well as the creator and host of the award-winning program, Reading Rainbow, has three distinctly different gigs in the works, a tribute to his versatility. A fan-led petition resulted in Jeopardy! tapping Burton to serve as the last guest host of the game show, with his episodes airing July 26-30. Tonight, he'll be heard as the voice of a J.A.R.V.I.S.-like A.I. on the CW's Nancy Drew, with the character set to be a regular on a proposed Tom Swift spin-off if this evening's backdoor pilot, "The Celestial Visitor," goes to series. And, lastly, Burton just announced that he's launched a new, curated book club of inspirational titles by Black authors on the social reading app, Fable.
The LeVar Burton Book Club kicks off with James Baldwin's Go Tell It On The Mountain. Fable subscription members can read the book together and trade comments, links, photos, and more; Fable Book Club is a premium option, while Fable Folio is free. Additional books and stories selected by Burton include The Fire This Time, edited by Jesmyn Ward, and Parable of the Sower by Octavia Butler. After that initial trio, Burton will return every three months to add three titles to the Folio, with one Folio entry joining the LeVar Burton Book Club to be read together.
"As a lifelong advocate for literacy, the opportunity to launch my book club on Fable's wonderful new platform is extremely exciting and timely," Burton said in a statement. "This partnership will help foster the importance of storytelling while sharing my love of reading.
Join Fable and check out LeVar Burton's book club here.
This article was originally published on