Your Favorite Judy Blume Book Is Now A Movie And It Looks Great
Are You There God? It's Me, Margaret is finally coming to the big screen.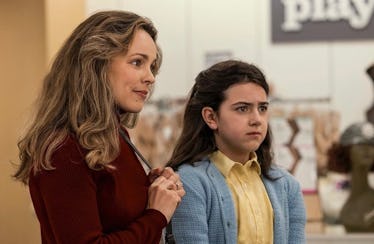 Lionsgate
We may receive a portion of sales if you purchase a product through a link in this article.
It's finally here! One of our favorite coming-of-age books is will become a movie. Are You There God? It's Me, Margaret, the beloved story that introduced girls throughout generations to the awkwardness of early adolescence and puberty, is coming to the big screens, and the first trailer looks great.
On January 11, the first trailer for the movie adaptation was released, giving fans of the book a tease of how the story will work on the big screen. The film is written and directed by Kelly Fremon, with James L. Brooks (As Good As It Gets) as one of the producers. Joining them in bringing the story to life is Abby Ryder Fortson, who plays the character of Margaret; Rachel McAdams playing Barbara, Margaret's mom; and Kathy Bates playing her grandma, Sylvia.
In the two-minute trailer, we see Margaret and her family moving to the suburbs of New Jersey and leaving their New York life behind. Now at a new school, Margaret navigates life as a young teen, learning about puberty, periods, bra shopping, and first kisses along the way.
In 1970, Judy Blume's book Are You There God? It's Me, Margaret was published, and in the 53 years since, it's remained a staple read, highlighting an honest look at what life is like for a young girl. Although it was technically her third published book, Blume had a special connection to this story, calling it her first "real book, the book where I just let go."
Although Blume initially said she didn't want her iconic story turned into a movie, thinking no one could do the story justice, she eventually changed her mind. In 2021, when it was announced that her book was getting a movie adaptation, Blume was on board with the plans.
Blume is listed as a producer of the upcoming movie, and she's thrilled with the casting, sharing that Abby, who will play Margaret, is a "natural" and "that Margaret got a funny, sassy mom in Rachel."
Are You There God? It's Me, Margaret is set to be released in theaters on April 28, 2023.