The Shaken and Stirred Catharsis of James Bond's Fatherhood
The history of 007 subversions, and why Dad Bond is such a mixed bag.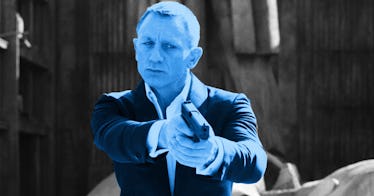 Sony Pictures Entertainment Motion Picture Group
James Bond has broken the biggest rule of James Bond. Unlike all the other films in the legendary action franchise, in No Time To Die, the famous super-spy is basically not the man we're used to. Save for a very fun chase scene in Cuba — and a wonderfully retro opening sequence involving James Bond's famously tricked-out Aston Maritn DB5 — the vast majority of the action in No Time To Die hits different than any other 007 flick before. By now, it's not really a spoiler: In this movie, James Bond is a dad. Because of that, No Time To Die has created a beautifully flawed catharsis for generations of real-life dads who have viewed Bond as an escapist fantasy. Here's why James Bond's fatherhood is wonderful and terrible all at the same time.
Major spoilers for No Time To Die ahead.
The most affecting scene in No Time To Die occurs right toward the end of the film. With moments left, James Bond (Daniel Craig) has climbed to the top of an evil laboratory, full of a DNA-coded virus that can kill millions. He's opened up the blast doors so the missiles from his government can wipe out this scourge, and in doing so he's defeated Safin (Rami Malek), an over-the-top Bond villain to rival the first cinematic Bond baddie, Dr. No.
But Bond's not going to make it. Even if he could outrun the missiles, he's been infected with the virus, a virus specifically coded to kill the love of his life, Madeleine Swann (Léa Seydoux) and his 5-year-old daughter, Mathilde. As he waits for his death, Bond has his daughter's plush animal tucked into his waistband, a loving father, clutching onto his kid's lovey just before the end.
Make no mistake, this scene works. And, once we realize Bond has a child by Madeleine, both Craig and Seydoux's acting chops raise the stakes in ways that transform a hyperbolic James Bond movie into something else: A normal movie in which James Bond just happens to be a character.
During the only chase sequence involving Mathilde, Bond isn't driving a cool tricked-out car. He's driving Madeleine's SUV, and the imagery of being a real father, driving a sensible family car also works. This chase scene isn't fun. It's scary. We're not used to seeing children in danger in James Bond movies. In fact, as former Bond screenwriter Bruce Feirstein revealed in the book The Many Lives of James Bond, before now, a major rule in writing films like GoldenEye and Tomorrow Never Dies is that "in the Bond universe there are no children." Feirstein claimed that in the past if new writers were brought in, one "mistake" would be to try and write a scene where "Bond saves a little kid." To preserve the formula of the 007 movies, this kind of thing has historically been off-limits.
If the purpose of these movies is to provide an escapist fantasy, the idea of a childless 007 universe makes a certain amount of sense. It's the same reason why some fancy restaurants don't allow children; if you're out on a date with your spouse, you may not want to be reminded of your kid. Adult-only spaces, arguably, have some kind of psychological utility, especially in pop culture. Plus, everyone knows James Bond is a terrible role model.
Which again, isn't an accident, but instead, has always been the point. In a new biography of Bond creator Ian Fleming, The World Is Not Enough, the author himself clearly admitted that the books were unabashed pieces of entertainment written for "adolescents of all ages." Fleming did not think of Bond as high art, or serious literature and firmly labeled the books as "piffle" and "corn."
For Fleming, James Bond was invented to star in some trashy books. Bond is a dirtbag, someone who only seems sophisticated because he likes nice cars, nice clothes, and his job involves killing bad guys, often in complicated ways. Along the way, he tends to have a lot of casual sex. Reading the books is not far off from softcore porn, but instead of long descriptions of people getting it on, Fleming was really good at describing beautiful places; cities and villas you may never visit, and beaches you might never see.
The true porn of Bond is the fact that the books — and to an extent the films — are travelogues. I've read Thunderball twice and I really can't explain the plot to you, but I'll never forget the way the Bahamas are described. Fleming's gift was to use his prose skills not to create some kind of deep, literary study of a hard-edged badass, but instead, create a shallow enough cipher of a character, that the reader could imagine themselves in the situation without too much trouble. To read the Bond books — or to watch the movies — is pretty much an act of voyeurism, in which the intended audience (mostly men) are invited to imagine what it would be like if they were James Bond.
Let's get one thing straight: the notion of Bond dying isn't new. Fleming himself killed Bond the book version of From Russia With Love but then brought him back later with a wave of the hand. So, the thing that makes No Time To Die different is Bond's fatherhood, not his death. When James Bond becomes a father, the fantasy mirror, is, for the most part, reversed. The most dadcore escapist brand is saying, loud and clear, James Bond is one of you.
Except, of course, he's not at all. Throughout the franchise, attempts to humanize Bond are always subversive because the character is basically non-existent. This is why people love to cite On Her Majesty's Secret Service as the most underrated classic Bond. At the beginning of that film, George Lazenby (in his only Bond film) turns to the camera, and says directly to the audience "This never happened to the other fellow." In that film, Bond fell in love and got married to Tracy (Diana Rigg), and the film ended with Tracy being shot and killed by Spectre. Again, almost to the audience, Lazenby's Bond mournfully said, "we have all the time in the world."
This line appears twice in No Time To Die, and the music from that film features prominently in the Hans Zimmer score. At the beginning of No Time To Die, when Bond (Craig) says to Madeleine, "we have all the time in the world," we slip into an alternate dimension of Bond. Thematically, this makes No Time to Die a kind of remake of On Her Majesty's Secret Service for 2021. Instead of Bond getting married and having his bride be killed, in this movie Bond himself dies and is survived by his family, specifically, his daughter. When the 1969 Louis Armstrong Bond song "We Have All the Time in the World," plays over the end credits of No Time To Die, it's more than just a cinematic Easter egg. The statement is clear: Bond has gotten serious before, and we're doing it again. On Twitter, George Lazenby sent warm wishes to Daniel Craig about the movie, saying "Daniel's last Bond reminded me of mine." He's not wrong.
Still, the primary difference between On Her Majesty's Secret Service and No Time To Die is that at the end of the former, Bond was reset back to being Bond, and now he's dead, and his family will live on with his legacy. In the movie world, this probably means we're done with this version of the Bond universe unless EON and MGM are planning some spin-offs or some kind of future-tense movie starring Bond's grown-up daughter. The next time Bond appears on screen, he'll be played by a new actor, and he won't be a dad anymore. Dad Bond is clearly a one-shot deal.
And therein lies the rub. The existence of Bond as a dad is shoehorned into the plot by a convenient five-year gap at the start of the film. Like Darth Vader, James Bond isn't really a day-to-day dad. His status as a parent is retroactive, and really only designed to make us feel differently about him than we ever have before. Essentially, Bond and Swann have their first big fight, Bond decides he can't cope and goes deadbeat, never once wondering if she might be pregnant. It's a weird choice and one that oddly undercuts the more progressive aspects of the film. What would No Time To Die have felt like had Bond known about his daughter the entire time? What about a version of the movie where he's actively being a dad when all the shit hits the fan? The only reason to make Bond an absent father is that it allowed the audience to be surprised when Mathilde appears.
This twist is barely worth it though. In fact, it robs the film of the one thing it could have done better: Show us that James Bond had changed. In real life, the process of parenting doesn't happen in a couple of days, or in one do-or-die moment in which you have to sacrifice everything. What would have been a more shocking ending — James Bond dying or James Bond living and trying to be a better father? Avengers: Endgame was guilty of this too, to an extent, which sends a strange message to men who love Iron Man or Bond; it's okay to be a martyr if the stakes are high enough. The idea that men are more willing to risk their lives than to spend some quality time with their kids is weirdly ingrained into the monoculture. When Fatherly interviewed BASE-jump skier Matthias Giraud, he made it clear that sometimes men embrace danger instead of cuddling their kids. At the end of the day, we might weep for James Bond, but his fatherhood still doesn't resemble ours.
As a symbol, the notion of James Bond as a dad is progressive for Bond and subversive for his fans. Parenting themes were brought into a non-parenting fantasy, and the results left countless parents shaken and stirred to be sure. Director Cary Joji Fukunaga and screenwriters Phoebe Waller-Bridge, Neal Purvis, and Robert Wade, along with producer Daniel Craig, should be proud. They did something new with Bond that has left us with more to talk about than any previous installment.
And yet, it seems like allowing Bond to live on as a dad would have been even braver. No Time To Live doesn't have the same ring as No Time To Die, but, perhaps, it would have been the film parents really needed.
No Time To Die is in theaters now.
This article was originally published on