You Have To Watch Jack Black's Hilarious Super Mario Music Video ASAP
The Super Mario Bros. Movie is great, but the video for "Peaches" might be even better.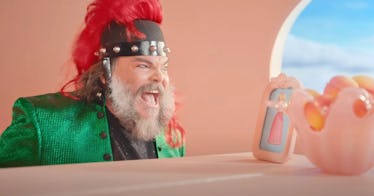 Lyrical Lemonade / YouTube
The Super Mario Bros. Movie celebrated its opening weekend, and a surprise music video release has everyone on social media talking. The song "Peaches," sung by Jack Black, who plays Bowser in the movie, has become a surprise (and warranted) hit.
On April 7, Black teamed up with Lyrical Lemonade to create a music video (directed by Cole Bennett) featuring Black singing his love song as Bowser to Princess Peach. The song became a hit on social media after the movie's release this weekend, so the team thought it would be a good move to drop a music video – and it was a good move.
The visual is set in a peach-colored room with Jack dressed as Bowser. As he sits at the peach-colored piano, Black pours out his emotions while sitting at the piano with a perfect combination of cheesy delivery and catchy lyrics.
"Bowser plays an incredible piano ballad that extols his love for Princess Peach," co-director Aaron Horvath previously said in a press release, per Insider.
"As we were trying to get the point across of Bowser's feelings for Peach, it seemed more fun, funny and sweet if we had him sing a song about it."
The power love ballad has shot up the charts, debuting at #3 on the YouTube trending music charts with more than five million views so far, and snagged more than 70 million views on TikTok and counting. The Bowser revolution is here. We're just living in it.
The Super Mario Bros. Movie is out now in wide release.