Here's the Weirdest Thing About That New Weird Al Yankovic Movie
The good, the bad and the weird of Daniel Radcliffe playing Weird Al.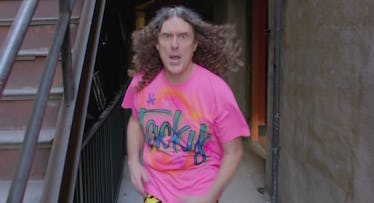 Credit: Weird Al/YouTube
If you were a "Weird Al" Yankovic-obsessed thirteen-year-old who lived for The Dr. Demento Show, the way I was at the time, the release of "Weird Al" Yankovic's 1989 starring and co-writing cinematic debut UHF was a big deal, a bona fide pop culture event. If you were not a "Weird Al" Yankovic obsessive, however, UHF seemed to engender more of a half-hearted shrug. It underperformed at the box office and inspired bizarrely vitriolic reviews. Roger Ebert, in particular, seemed personally insulted by Al's affable comedy.
But in the years that followed UHF developed an increasingly large, intense, obsessive cult. One of Al's biggest failures eventually came to be seen as one of his greatest and most enduring triumphs. With the cult success of UHF came angry demands from fans for a follow-up but while UHF holds up shockingly well for slobs versus snobs comedy from the 1980s when the concept of cultural sensitivity did not yet exist, it does not angrily cry out for a sequel.
If Al seemed understandably uninterested in a UHF sequel his mind remained fixated on film. Many of his most beloved songs are about movies, including "Yoda", "The Saga Begins", "Gump", "Jurassic Park" and "Ode to a Superhero", his Spider-Man song, which may not have been a top 40 hit but was a smash in my house with my two small boys.
I can only imagine how annoying it must be to spend literally decades having to answer questions about when and if UHF2 would be coming out.
Now, a mere thirty-three years after the release of his beloved cinematic debut, Al is set to return to the world of movies in a big way with the news that Daniel Radcliffe, Harry Potter himself, would be playing the five-time Grammy winner in a feature film adaptation of a Funny or Die sketch from 2010 called Weird: The Al Yankovic Story to be co-written and directed by Eric Appel, who helmed the original short. But there's just one weird thing about all of this: There's almost certainly no way we're getting the "real" story of Weird Al. And that's also kind of the point.
Appel recently directed Die Hart, a clever action movie parody vehicle for Kevin Hart and John Travolta that was one of Quibi's only successes, picking up Emmy nominations for its stars and getting renewed for a second season on the Roku Channel. If Appel can strike gold with a project that involves both Quibi and John Travolta, one can only imagine how well he'll do with a winner like Al. In a Machete-like turn of events, a fake trailer for a non-existent movie starring Aaron Paul as Al and a multitude of stars, led improbably to a genuine motion picture. Yankovic is the antithesis of the kind of mercurial, self-destructive rock stars they make lurid melodramas about. I should know, as he hand-picked me to write his coffee table book Weird Al: The Book!
This is the important thing: Yankovic is famously wholesome. He doesn't drink or use drugs or even swear. He's never been divorced, gone to rehab or declared bankruptcy and he's performed with the same ridiculously talented, versatile group of musicians since the early 1980s.
The viral Funny or Die sketch that inspired Al's triumphant return to the world of cinema impishly posited Al as the epitome of rock and roll excess, a Caligula-like hedonist who fights and drinks and screws his way to rock infamy. But, of course, that's all a big joke.
Given Al's standing as the king of pop parody, it makes sense that he would return to movie-making not with a standard biopic but rather with a subversive, pop-culture-savvy parody of melodramatic rock biopics, a tongue-in-cheek, brazenly post-modern romp.
In that respect, Al's new project is a bit of a throwback to his 1985 long-form music video compilation The Compleat Al, which gleefully lampooned the cliches and conventions of rock and roll and rock documentaries like The Compleat Beatles and focused on a fictionalized Al much wilder and more debauched than the man who was won the hearts and minds of generations of children.
The Compleat Al managed the nifty feat of parodying rock and roll decadence while remaining family-friendly. The same will undoubtedly be true of Weird: The Al Yankovic Story as well. In its original incarnation, Weird: The Al Yankovic Story bears a distinct resemblance to another cult movie that underperformed during its theatrical release but has gone on to develop a massive cult following: Walk Hard: The Dewey Cox Story.
Thankfully the world of rock and roll cliches is vast and ripe for parody. It's also one that Al knows better than just about anyone. Weird: The Al Yankovic Story affords us an opportunity to relive four decades of pop music history through the prism of its preeminent parodist.
Of course, the world has changed tremendously in the last thirty-three years so Al's return to feature films will debut on a form of technology that did not even exist when UHF was getting destroyed at the box office by the likes of Indiana Jones and The Last Crusade.
Weird: The Al Yankovic Story will stream exclusively on the Roku Channel. Al's long-awaited follow-up may be streaming instead of premiering in theaters but it is nevertheless a very big deal, as more new "Weird Al" Yankovic content can only be a good thing.
Editor's Note: Grab all Nathan Rabin's excellent books on Weird Al, right here.
This article was originally published on