Here's Why HBO Max Is Beating Netflix In One Huge Way
The streaming wars are heating up.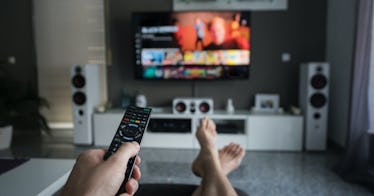 SONY DSC/Getty
Is Netflix going to be relevant in five years? Maybe, maybe not! This week, the world's most popular streaming service announced that for the first time in over a decade, it was actually starting to lose subscribers. And if that wasn't bad enough, HBO Max, one of Netflix's biggest competitors, announced that it is continuing to grow at a rapid pace. Translation: Netflix needs to watch its back or it may be in danger of losing its dominance in the streaming wars.
According to one report, HBO Max and HBO added nearly 13 million subscribers over the last year, with nearly 4.4 million of those subscriptions coming in the US alone. In contrast, Netflix reported a loss of 200,000 subscribers in the first quarter of 2022 and projects that they will lose an additional two million subscribers in April-June.
Of course, it's important to remember that none of this means Netflix is in danger of becoming the next Quibi or CNN+, at least anytime soon. While its growth appears to have plateaued, Netflix is still very much the top dog in the world of streaming, with more global subscribers (221.64 million) than Disney+ and HBO Max combined.
However, this does signal that Netflix's days of streaming supremacy could be numbered, as its competition grows while it slowly sheds subscribers. If Netflix's well of new subscribers has dried up, it may try to squeeze more money out of its current subscriber base. That could explain why Netflix is considering cracking down on password sharing, as well as offering lower-priced subscriptions that would include advertisements.
Whether this turns out to be the beginning of the end for Netflix or much ado about nothing, one thing is abundantly clear: the streaming wars are only going to get more and more intense. And while Netflix has been the undisputed king of streaming up to this point, heavy is the head that wears the crown.