29 Years Later, The Most Hardcore Disney Show Is Getting Rebooted In Live Action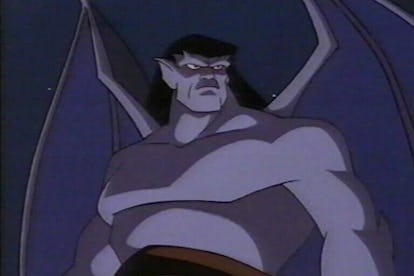 Disney
They waited a thousand years to break free after they were cursed, so what's a few more decades? All signs point to a comeback for the dark Disney kids cartoon, Gargoyles, but nobody was prepared for what this announcement revealed.
According to a report from The Hollywood Reporter, the 90s cartoon is being brought back to life as a live-action series slated for Disney+. Pairing up to craft this revival for Disney is Gary Dauberman and James Wan, both from the Atomic Monster production company. This duo was responsible for modern horror classics like the Annabelle series, and their group is responsible for M3GAN and the Conjuring universe.
Little is known about plans for the series at this time, but what has been revealed is this will be a live-action series intended for Disney's digital platform. There's no release date yet since the show has been described as being "in early development at Disney Branded Television." Consider this announcement a litmus test to gauge fan interest, and we can safely speculate that no scripts have been written yet, nor have any casting choices been made.
"Stone by day, warriors by night," the animated Gargoyles protected the citizens of New York for three syndicated and Saturday morning seasons from 1994 through 1997. Goliath's clan patrolled the skies with the help of their human friends, detective Elisa Maza and Matt Stone, to curb evil-doers like the ultra-powered Pack, the timeless Macbeth, Goliath's former flame Demona, mobsters like the Dracon family, and their unpredictable best frenemy, David Xanatos.
Gargoyles was originally created by Greg Weisman, who also developed hits like Star Wars Rebels, The Spectacular Spider-Man, and Young Justice. The show came during the mid-90s boom of darker kids shows, including Fox Kids' X-Men and Batman: The Animated Series. It stood out against Disney's zanier line-up of Goof Troop and Darkwing Duck by offering season-long arcs with more mature themes and storytelling. Weisman has been involved with the comic book continuations of the show, including the most recent adaptation, but was not mentioned in the THR announcement. His involvement is not known at this time.
As the seasons progressed, they grew their clan and met new friends and foes, but the adventures ended after a lackluster third season. Renamed Gargoyles: The Goliath Chronicles, viewers weren't keen on the downgraded animation and bland stories, concluding their tale with the public becoming aware of the Gargoyle's existence and accepting them into society.
Gargoyles is currently enjoying a renaissance, including a remaster of their classic SNES/ Sega Genesis video game, and a fascinating comic series from Dynamite Entertainment that picks up the story not long after The Goliath Chronicles ended.
The question of whether this will be intended for adult audiences or simply more discerning younger viewers is up in the air. It's worth noting that while Atomic Monster has loads of R-rated flicks under their belt, they also have animated kids' shows like Samurai Rabbit: The Usagi Chronicles and Aquaman: King of Atlantis as part of their productions as well.