John Legend is a Father of the Year Honoree
Fatherly honors the musician for modeling engaged fatherhood and helping teachers innovate.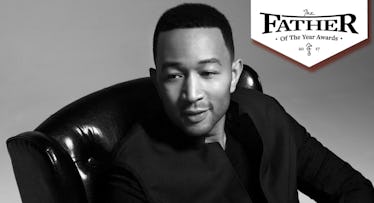 Eliot Lee Hazel
The Father Of The Year Awards celebrate both influencers and unsung heroes who have made a major contribution to fatherhood, kids, and communities.
John Legend, Grammy Award Winner, producer, actor, activist, dad, has spent a lifetime listening very carefully. He does this professionally and he does this personally. When he was young, growing up in Springfield, Ohio, he listened to his teachers and graduated high school at 16 (and University of Pennsylvania at 21). Now, he spends the bulk of his time listening to his 18-month-old daughter Luna Simone, his wife Chrissy Teigen, and his innumerable professional collaborators. But he's still listening to teachers too. They're telling him that they need help preparing kids for a world that has changed faster than school curricula.
Naturally, Legend is particularly interested in helping teachers who listen to their students, who let their students' enthusiasm and engagement direct the lesson plan. That's why, in 2014, Legend co-founded LRNG Innovators, an organization that awards grants to innovative teachers across America, with Connie Yowell of Collective Shift and the National Writing Project. Taking care of his daughter and realizing how hard it is even with considerable resources has made Legend even more passionate about his work, which he hopes will spark an education revolution.
"The idea is to empower and encourage teachers to make change in their classrooms and then to spread those ideas around the country," he says. "We realized that students follow their passion. It's a matter of encouraging them to find ways to take learning beyond the walls of their schools."
Over the last three years, LRNG Innovators has awarded grants of nearly $500,000 to over 34 projects that help students across the country engage with numerous subjects. Playable Fashion Educators, a project in Brooklyn, helps students create games using custom wearable game controllers. Building Bridges, a program based in Las Cruces, New Mexico, in which high school students partner with professors of rhetoric, writers and journalists at the University of New Mexico to work on their creative writing.
The idea underpinning LRNG Innovators' selection is called "Connected Learning." Developed by the Connected Learning Research Network, the theory posits that teachers are most effective when they are helping their students follow their passions and, in doing so, teaching them to learn and think creatively. This way of thinking, largely absent from the rigid systems embraced at many schools, allows and even incentivizes educators to embrace new technologies and emerging fields.
What makes Legend's advocacy work particularly notable is both the depth of his commitment (he does substantial behind-the-scenes work) and his wonkish enthusiasm for the cause. He listens to the teachers as they submit their projects and to the students who describe how each projects has affected their outlook. Legend's voice is, of course, powerful, but he largely holds it in reserve. He speaks up strategically and always for the kids.
At the end of the day, John Legend the musician, John Legend the philanthropist and John Legend the father are one in the same. When he's at home with Luna Simone – listening to Nina Simone– and watching her dance, or changing her diapers, he's still the same Legend. He listens and he amplifies.
"I'm here," he says, "I'm going to help with whatever I can help with."
This article was originally published on