Everything You Need To Know About Tee-Ball Rules
It's not always a chaotic melee of tiny bats, group fielding, and wrong-way baserunning.
by Jack Crosbie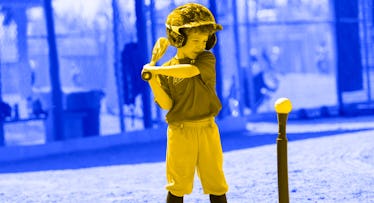 At first glance, tee ball may look like a chaotic melee of tiny bats, group fielding, and wrong-way base running. And, well, it is. But it's also real baseball, just aimed more at fostering fun and fundamentals than winning or losing. Targeted to both boys and girls ages 4- to 7-years-old, Tee ball is about learning the game ⏤ and learning to love the game ⏤ in a non-competitive environment. As such, the ball's hit off a tee so it's easy to make contact, every child plays the entire game, and nobody wears spikes, or keeps score for the most part. Naturally, the rules are also slightly different than traditional baseball, or even youth leagues for older kids. Here are five of the key differences:
Number of Players
A typical baseball team requires nine players on the field at all times, with subs to serve as backups or relief pitchers. Major League Baseball rosters include 25 players while Little League squads have between 12 and 15 kids in the dugout. Tee ball, on the other hand, needs way less. Little League's official rules recommend that teams only put 6 to 10 players on each team. This ensures each player gets plenty of at-bats ⏤ as well as, more time in the field ⏤ and games are shorter.
Defensive Zones, Not Positions
Most Tee-ball leagues mandate that you can only have one player on the mound (or inside the infield diamond) at a time in the "pitchers" spot. After that, though, Little League recommends that instead of mandating strict infield positions, leagues break up the diamond into three zones — left, middle, and right. Coaches should then rotate players through each zone, and into the outfield, after each out (or after each batter) during an inning. That way, players constantly have something to do and get playing time in each position.
Outs and Innings
Tee-ball games can technically last up to nine innings, but most games are capped at four innings or one hour of play. Everybody on the roster plays ⏤ there are no benchwarmers ⏤ and while some leagues insist all nine batters hit each inning, others play by the three-outs rule of normal baseball. Nonetheless, almost all cap the number of batters in an inning at nine, regardless of format. Little League recommends rotating the lineup every inning to ensure kids get their cuts and no one has to bat leadoff every time, and there are usually no strikeouts. Kids swing until that ball lands somewhere in the field of play.
For umpires, of course, it also means letting kids play through a situation here and there. You may call a close play safe for the flow of the game, or call an out when a team really needs one if the throw or tag is close. "You don't want to be too strict with the game," said Don Simon, a long-time coach and umpire who runs NCUA (North Carolina Umpire Association) Baseball. "The main thing there is the kids having fun."
Baserunning
The bases are 50-feet apart in Tee ball, and baserunning is similar to slow-pitch softball or coach-pitch leagues. Runners can't leave the bag until the batter makes contact, and there's no stealing bases — obviously, because the ball is on a tee.
Mercy Rule
In addition to a one-hour time limit, most leagues will also have a mercy rule of some sort. While the mercy rule for older kids usually means the game is ended if one team is ahead by more than 10 runs after 4.5 innings, it's a little different for Tee ball. For example, after a team has a 10-run lead, they have to remove one infielder from the diamond. Or if the lead gets to 15 runs, the losing team is allowed to put in another outfielder. Not only does this get more kids in the game, it helps even out the scores so no one team gets shellacked.
This article was originally published on