50 Years Ago, One Perfect Rock Album Became Immortal For The Wrong Reason
The cover of Aladdin Sane is famous. But the music on the album is even better.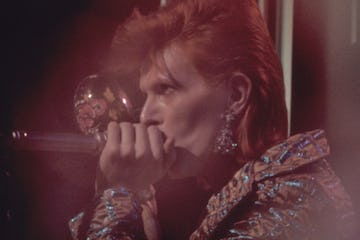 Watal Asanuma/Shinko Music/Hulton Archive/Getty Images
We may receive a portion of sales if you purchase a product through a link in this article.
David Bowie was a one-of-a-kind rock star who contained multitudes. He brought to life several musical personae that, like the greatest pieces of art and most memorable of performances, survive – or even outlive – the man himself. On April 19, 1973, Bowie released his sixth album, Aladdin Sane. The album — from the songs to the cover image — remains as indelible as ever 50 years after it first blew audiences away. But, because of that famous cover, it's possible that this album is remembered today more for its imagery of being Bowie-esque, rather than the fact that track-by-track it's one of his more varied and hard-rocking albums.
Here's why Aladdin Sane is fantastic, even if it had never had that very specific photo on the cover.
Bowie's previous album, The Rise and Fall of Ziggy Stardust and the Spiders from Mars established him as a major star in the U.K. and U.S. So, a lot rode on his follow-up, which Bowie recorded while still on the Ziggy Stardust tour. He later released Aladdin Slane just 10 months after Ziggy Stardust dropped. The album reunited Bowie with Spiders from Mars bandmates Mick Ronson (guitar), Mick Woodmansey (drums), and Trevor Bolder (bass), as well as co-producer Ken Scott. New to the team was piano virtuoso Mike Garson, who helped take several songs to the next level with his jazzy, trippy contributions. Many critics and fans praised Aladdin Sane, but, people tend to rank it a notch or so below Ziggy Stardust in the larger Bowie oeuvre.
Aladdin Sane reached #1 in the U.K. and #17 in America, and it spawned four singles: "The Gene Jeanie," "Drive-In Saturday," "Time," and a cover of the Rolling Stones' "Let's Spend the Night Together." This last detail is worth lingering on. Because the opening track, "Watch That Man" was inspired by Bowie seeing the New York Dolls, it's fascinating that this album also contains a Rolling Stones cover, which, arguably, Bowie steals and makes his own. Today, nobody looks at the cover of Aladdin Sane and thinks "Oh that's the Bowie album with a Rolling Stones song on it." But maybe we should?
The Cover of Aladdin Sane
Aladdin Sane marked the first of photographer Brian Duffy's three Bowie album covers; he subsequently took the pics for The Lodger and Scary Monsters. The cover features a full-size shot of a pale, shirtless, eyebrow-free, redheaded Bowie sporting a crimson and blue lightning bolt that spans from his scalp to his closed right eye, down to his jawline. What appears to be a large teardrop fills the space above his left clavicle; this was airbrushed in later. It's stark bold, unique, glam, and disturbing, as it helped perpetuate Bowie's penchants for reinvention and creating characters. Fun fact: Duffy later directed several music videos, including Spandau Ballet's "Gold."
Aladdin Sane reads more accurately – or pun-ily , if we might make up a word – as A Lad Insane, once considered a possible album title, along with Love Aladdin Vein and Vein. Bowie famously stated that Aladdin Sane was "Ziggy goes to America," and that comment permeates the title and the music itself. Bowie, whose brother dealt with schizophrenia in his family, felt a bit split: an average bloke contending with fame, the push and pull of a private guy flicking the "On" switch to electrify tens of thousands of concertgoers every night, and a Brit soaking in the dichotomy that was America, from its gleaming buildings to its terrible squalor. Oh, and remember, he was just 25 years old when he recorded the album!
The Music of Aladdin Sane
RCA released Aladdin Sane on April 19, 1973. The album's 10 tracks clock in at a total of 41 minutes and 32 seconds. Bowie fans often grouse about the production, which occasionally amplifies the music at the expense of Bowie's vocals, but, let's get real, the songs hold up. "Watch That Man" rocks, obviously, and even though it opens this very famous Bowie album, simply isn't cited enough as proof of his greatness. Meanwhile, "Panic in Detroit," "Cracked Actor," and "Drive-In Saturday" find Bowie commenting on the darker side of things he's seen, heard, and experienced in America. "Drive-In Saturday" also digs into Bowie's penchant for looking back at things as an outsider, as literally and figuratively an alien.
"Time" is bonkers and catchy, with dips into pure cabaret, and Bowie utters the then-verboten word, "wanking." "The Jean Genie" (with its great Ronson solo) and "The Prettiest Star" (written for his soon-to-be-wife, Angela, with David Sanborn on sax) deliver serious glam rock vibes. Fun fact: "The Prettiest Star" reinvented a failed single from 1970 produced by Tony Visconti, who frequently collaborated with Bowie, starting with some of the star's earliest music in 1968 and ending in 2016 with Bowie's brilliant swan song, Black Star.
"Aladdin Sane," and "Lady Grinning Soul," however, take best song honors. Garson's improvised two-minute piano intro kicks "Aladdin Sane" into spacey, avant-garde gear, and Bowie takes it from there. Garson worked with Bowie for the next three decades, both in the studio and on the road. In a 1973 interview with Circus, Bowie explained, "I don't really think (Aladdin Sane) is me… It's my interpretation of what America means to me. It's like a summation of my first American tour." As for "Lady Grinning Soul," which ends the album, it mixes Garson's ethereal piano playing, Ronson going all Flamenco on an acoustic guitar, and Bowie absolutely soaring with his gorgeous, emotional vocals. Fun fact (or unsubstantiated rumor, actually): By most accounts, "Lady Grinning Soul" was inspired by Claudia Lenneard, an American soul singer who reportedly also served as the inspiration for the Rolling Stones song "Brown Sugar."
In this way, Aladdin Sane is a confluence of a lot of rock from the '60s and the '70s, and, in a way, predicted aspects of the '80s, too. It's a timeless album, because it exists in various eras at once, and because no matter what Bowie looked like in real life, the music is really the only thing that ever mattered.