Christina Ricci's 'Wednesday' Comeback Is a Gen X Dream Come True
She's back. And so is the '90s. Forever.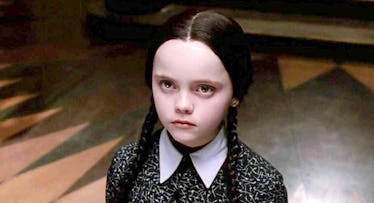 Credit: Paramount/Columbia
Wednesday Addams is back, and so in the '90s. Although The Addams Family franchise originates in 1964, it seems the Gen-X versions from the 1990s have stuck in the zeitgeist as being the ones we actually care about. But why?
When it was announced that Tim Burton would be the director and Executive Producer of Wednesday, a Netflix series focussed on Wednesday Addams of The Addams Family and her mysterious and ooky coming of age adventures it felt like Burton was once again choosing the most obvious possible project and desperately trying to recapture past triumphs. Burton seems intent on making only the projects you would expect someone with his sensibility, history, and taste to make, ragingly unnecessary remakes, reboots, and adaptations like Charlie and the Chocolate Factory, Alice in Wonderland, Dark Shadows, Frankenweenie, and 2019's particularly poorly received Dumbo.
Then again, Tim Burton did not actually direct 1991's The Addams Family but it feels so much like a golden-era Burton classic that you could be forgiven for mistaking it for his work. Burton turned down an opportunity to direct The Addams Family to make Batman Returns instead.
Barry Sonnenfeld, a former cinematographer with credits like Blood Simple, Raising Arizona, Big, and Miller's Crossing ended up making The Addams Family his directorial debut as well as helming its even better, even more, beloved 1993 sequel The Addams Family Values. With The Addams Family and Addams Family Values, Sonenfeld was shamelessly channeling Burton's aesthetic visually and thematically with shocking success. The Addams Family and Addams Family Values might just be the only Tim Burton knock-offs to reach the giddy, gothic heights of the Beetlejuice director's best work. Sonnefeld also has produced two versions of A Series of Unfortunate Events, and the acclaimed Netflix version of that series may be the best bell-weather for what Wednesday might look like.
If the news that Burton would be directing a re-imagining of The Addams Family for a streaming service inspired weary groans of, "Of COURSE he is", the news that Christina Ricci has joined the cast in an unknown role that, according to Deadline, will be similar to one Thora Birch was to play before dropping out for personal reasons, was infinitely better received. Birch, incidentally, was to play a role Deadline described as "Wednesday's dorm mother and the only "Normie" on staff at Nevermore Academy (where the show takes place)."
In the never-ending game of IP recycling that constitutes pretty much the entirety of pop culture, roles are re-cast all the time. Just look at Spider-Man: No Way Home. The year's most successful motion picture, with a gross approaching two billion dollars, famously brings together the Tobey McGuire and Andrew Garfield iterations of Peter Parker/Spider-Man alongside Tom Holland's boyish take on the wacky wall-crawler and web spinner.
Just three years ago Chloe Grace Moretz voiced Wednesday Addams in a CGI cartoon adaptation of The Addams Family that was successful enough to spawn a sequel, 2021's The Addams Family 2. (Which is actually solid.)
So, what is it about Ricci's take on the character that makes her so iconic? Why is Ricci the definitive version of Wednesday Addams rather Lisa Loring, who played the role on the beloved black and white 1960s sitcom? Why is she the version of Wednesday we still want to see?
Ricci deserves credit for a hilarious, unforgettable, and utterly uncompromising performance in The Addams Family and Addams Family Values but Nostalgia obviously plays a big role as well. Her blackly comic, bone-dry, and perfectly deadpan Wednesday embodied the jaded, bitterly ironic, and nihilistic sensibility of Gen X as well as its innate contempt for rules and authority. It was the right performance at the right time and helped make the character a feminist icon, as well as an aspirational figure for iconoclasts of both genders who had no interest in conforming.
Ricci's Wednesday Addams never courts the audience's affection. She doesn't do anything to make the wonderfully wicked little girl likable or sympathetic, which paradoxically is the key to her unlikely but intense likability.
The gift and the curse of playing a character that captures the public's imagination the way Ricci's Wednesday Addams did is that audiences will always see echoes of her most famous role in every subsequent performance. Ricci has gone on to have an impressive career, popping up in notable movies like Casper, The Ice Storm, The Opposite of Sex, Fear and Loathing in Las Vegas, Pecker, Buffalo 66, Tim Burton's Sleepy Hollow, Monster, Black Snake Moan, Speed Racer, and The Matrix Resurrections and TV shows like Yellowjackets.
But no matter how far Ricci strayed from her defining role, the ghost of Wednesday Addams continued to haunt her. In that respect, she's like her Mermaids costar Winona Ryder, who could never escape Generation X's infatuation with her as the ultimate Goth dream girl/role model in Beetlejuice and Heathers. Instead of running from her early 1980s fame and the public's love for the characters she played at the very beginning of her career, Ryder embraced her legacy with a high-profile role in the ferociously nostalgic, zeitgeist-capturing Netflix hit Stranger Things.
Will the Netflix series Wednesday do for Ricci what Stranger Things did for Ryder? It's impossible to say at this point but casting her in the show gives Burton's new project an innate credibility. After all, if Christina Ricci, THE Wednesday Addams, is okay with another actress (You's Jenna Ortega) playing the role then shouldn't fans of her performance follow suit?
Wednesday made a lot of geeks happy by getting Ricci's blessing and her participation but don't worry, there are still lots of ways they can still screw things up. This is late-period Tim Burton after all, which, alas, is as shaky and derivative as early Tim Burton was original and inspired. Still, because Ricci is onboard, it feels like this could be the Gen X Addams Family comeback we didn't know we wanted.
Wednesday hits Netflix sometime in 2022.
This article was originally published on