This Guy Is A Fox! How Chris Diamantopoulos Cracked Fatherhood
From Mrs. Davis to Silicon Valley, to being a father of four, Chris Diamantopoulos knows how not to take himself too seriously.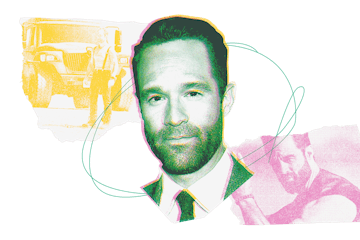 Ariela Basson/Fatherly; Getty Images/Slavin Vlasic, Peacock, HBO
We may receive a portion of sales if you purchase a product through a link in this article.
As a father of four, Chris Diamantopoulos understands generation gaps. The funny, down-to-earth actor jokes that his 12-year-old daughter and 9-year-old son are in one time frame, while his 3-year-old daughter and 6-month-old baby are in another. Diamantopoulos — who is known for his roles on The Office, as well as The Wonderful World of Mickey Mouse and Diary of a Wimpy Kid — says his children are just now getting curious about his TV work. "My 12-year-old boy has just started watching The Office," Diamantopoulos tells Fatherly. "And he's just now figured out from his friends who I play. His friends told him that I'm the most loathsome character on The Office."
Diamantopoulos laughs at this kind of thing — that his kids see him both as the hero in their lives and the villain in the story of Pam and Jim. In fact, reconciling his onscreen personas with his private dad life is something Diamantopoulos is hyper-aware of. For many TV comedy fans, Diamantopoulos is most memorable in his role as Russ Hanneman on Silicon Valley, specifically for the catchphrase "This guy F*cks!"
"When I still lived in New York City, I only had two kids," Diamantopoulos recalls. "And we'd walk down the street on our way to the comic book show, and people would just yell out 'THIS GUY F*CKS!' And my kids would be like, 'What did he say?' And I'd just tell them someone had said, 'This guy is a fox. That they thought I was handsome.' And my daughter, who was like 3 at the time, wasn't buying it."
More than anything else, this sense of acceptance is who Chris Diamantopoulos is. He's seen as that guy from that thing, but he also knows his role as a father is not defined by the outside world. Along with his wife, Becki Newton (known for Ugly Betty), he embraced the 2020 lockdowns and found his connection to his children grew stronger. "It was more of a blessing than a curse for us. And I know people lost people and lost a lot, but for us as a family, it brought us together," Diamantopoulos reflects. "I don't know if we would've had a chance to stop and regroup as a family if that had not happened."
Diamantopoulos likes to imagine a kind of realm in which his children chose his wife and him as their parents: "They were looking down and they were like, 'That guy looks really weird and very stupid. I think it might be fun to hang out with him.' And that woman seems super nice and brilliant, and she seems to have great control over that guy.'"
My kids would be like, 'What did he say?' And I'd tell them someone had said, 'This guy is a fox. They thought I was handsome.' My daughter wasn't buying it."
Most recently, Diamantopoulos stars in the critically acclaimed new Peacock series, Mrs. Davis, which also stars Betty Gilpin as a nun battling a super-powerful AI. Diamantopoulos hilariously plays "JQ," a kind of self-styled revolutionary leader, who also is fighting back against this AI. It's a role in which Diamantopoulos has created a character that's possibly funnier than anything he did in The Office or Silicon Valley. The name of the game in Mrs. Davis is tongue-in-cheek, over-the-top humor. The stakes are real, but the show is absurdly funny.
"It was the ultimate collaboration," Diamantopoulos says. "It wasn't just the writers [Tara Hernandez and Damon Lindelof], it was directors, and the wardrobe and the makeup and hair." The character is described as a cross between Tyler Durden in Fight Club and Bruce Willis in The Fifth Element. But, those comparisons almost do the role a disservice. The humor of JQ, complete with a campy Australian accent, is vintage Diamantopoulos. He's so funny in the role, you may forget it's him. "This guy has orange spandex that straps in the crotch," Diamantopoulos says with a laugh. "He's like the eighth Hemsworth brother."
1. What's your favorite thing to do together as a family?
Cook, set the table, enjoy a long meal, share stories, tidy up, and watch Shark Tank.
2. If you have an hour to yourself, what are you doing?
Taking the dog on a hike. Or reading in the sun.
3. What's your favorite piece of clothing or accessory that you own? (Or toy!)
My OMEGA Seamaster 300 Co-Axial Master Chronometer in Bronze. It was a gift (from my wife) celebrating my newest gig — The Sticky, on Amazon.
4. Name the most important skill you're passing down to your kids.
Elocution.
5. Give us a book, record, movie, or TV recommendation.
Meditations by Marcus Aurelius, translation by Gregory Hays. It's less of a book and more of a how-to manual for life. This translation is vibrant.
I recently learned that the great Jackie Gleason (aptly nicknamed "the great one") was also a prolific musical arranger and composer. His album: Jackie Gleason: The Romantic Moods, is perfect background music for dinner… and even better for dessert. My favorite track is "Days of Wine and Roses." It's happy melancholy. His take on it is masterful.
The Court Jester starring Danny Kaye is a movie everyone should see, especially with their families. Made in 1955, it's Metro Mayor Goldwyn's finest production and it will captivate anyone aged 2 to 102. (Apologies to the 103-year-olds I have offended.)
Better Call Saul may be the best television I've ever seen. A brilliant origin story that starts soft and hardens to perfection. Seehorn, Odenkirk, Banks, and McKean all deliver and then some.
6. If you could give one piece of advice to your former kid-free self, what would it be?
I think Cat Stevens said it best: "It's not time to make a change, just relax take it easy, you're still young, that's your fault, there's so much you have to go through. Find a girl, settle down, if you want, you can marry, look at me, I am old, but I'm happy."
Mrs. Davis is streaming on Peacock.
This article was originally published on