Why 'Bluey' Season 3 Actually ISN'T Hitting Disney+ This Year
Yes, it's coming, but don't hold your breath.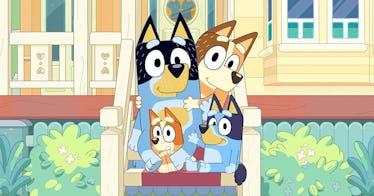 BBC Studios
It's not always easy to predict which TV show our kid will become obsessed with next. If your child's anything like the millions of other toddlers, they're glued to the TV watching Bluey, an Australian children's show that follows a loveable pup named Bluey, her younger sister, and their parents. Unfortunately, if your child has binged Season 1 and Season 2 on Disney+ and are impatiently waiting for Bluey Season 3, they're going to have to wait. The newest season isn't going to be available on Disney+ this year.
Take a moment to catch your breath. We know what it's like when we turn to our kid's favorite characters to entertain them while we make dinner. And when they want to watch new episodes, we look forward to them as well.
Bluey Season 3 is officially coming.
When BBC Studios confirmed earlier this year that a Season 3 of Bluey was on the way, parents rejoiced.
"We are really excited that our brand-new season of Bluey, currently in production, will be coming to Disney," Charlie Aspinwall, executive producer for Ludo Studio, the Emmy-Award-winning company behind Bluey, said in a statement according to Romper. "Season 3 will bring us more fun and games at home with the Heelers and out and about with Bluey and Bingo's friends."
Where can we watch the third season of Bluey?
Since it's an Australian TV show, the new season is hitting that market first. According to News Corp Australia, the season is set to premiere on ABC Kids and ABC iView on November 22. And because the company knows kids don't want to miss the new episodes, each new episode will air twice each day.
So, when is Bluey Season 3 coming to the US?
BBC Studios and Disney purchased the international broadcasting rights to Bluey in 2019 and made the first two seasons available on Disney+. It was an instant hit with kids falling in love with the energetic six-year-old Blue Heeler puppy and her family.
In May 2021, BBC Studios and Disney announced a third season would be coming to Disney Junior, Disney Channel, and Disney+. However, they didn't give a date for when we could expect the new episodes to drop. And it sounds like we're going to have to wait a while.
The chance of Season 3 being available this year for viewers in the US is slim. If we look at the timeline for the second season, it premiered in Australia in March 2020. Still, it wasn't made available on US Disney+ until the end of May in 2021.
Following that same timeline, we might have to wait until the start of 2023 for new episodes, which would be a disaster for our kids who don't have the patience to wait that long.
Given what a huge hit the show was in the US, we're guessing the timeline for Season 3 will be shorter than the gap between Season 2 premiering in Australia and becoming available on Disney+ for those in the US.
Until then, Seasons 1 and 2 are available to stream on Disney+ now.