The Very Best Ted Lasso Needle-Drops And Musical Moments, Ranked
Believe! It's all about the music.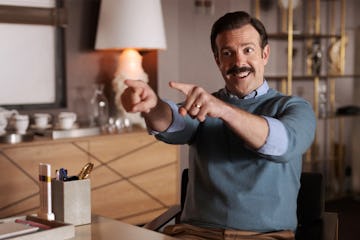 AppleTV+
Nobody who has watched Ted Lasso can get the theme song out of their head. The Marcus Mumford and Tom Howe-penned track almost certainly has something to do with the massive success of the show. That opening yeahhahh is such a perfect hook, a combination of Beatles and Creedence Clearwater Revival influences. In 2021, Mumford said the goal was to create something that "feel[s] somewhere halfway between London and Kansas, where Ted's from."
But the totality of great music in Ted Lasso isn't just the theme song. Now that Season 3 is airing on Apple TV+, Jason Sudeikis's son is playing soccer, and the Ted Lasso cast is visiting the White House, it's time to talk about the show's secret weapon: the music.
Here are the best musical numbers and needle drops from all three seasons of Ted Lasso, so far.
11. "Hello"—Martin Solveig & Dragonette, season 2, episode 9 "Beard After Hours"
After the success of the first season, Apple TV+ approached the Ted Lasso writers with an extended episode order—after they'd already mapped out the second season in ten episodes. Hence the polarizing-received Coach Beard (Brendan Hunt) bottle episode. Beard dancing to "Hello" in the club catapulted 2010 hit back into the charts when the episode aired in September 2021.
10. "Christmas (Baby Please Come Home)"—Rebecca and Ted, season 2, episode 4 "Carol of the Bells"
Ted (Jason Sudeikis) is facing his first Christmas alone, so club owner Rebecca (Hannah Waddingham) pretends to blow off Elton John's holiday party in order to hand out gifts to kids in disadvantaged communities, which it turns out she does in secret every year. Meanwhile, the majority of Richmond AFC are ex-pats like Ted and thus don't have family in town either so the director of operations Higgins (Jeremy Swift) hosts them at his house, which is also an annual tradition. By the episode's end, Rebecca and Ted serenade the team in the snow with a rousing rendition of "Christmas (Baby Please Come Home)."
9. "Ring the Alarm"—Beyoncé, season 3, episode 1 "Smells Like Mean Spirit"
Oh, so Ted Lasso's got that Beyoncé money. Queen Bey's 2006 scorned woman anthem plays over the end credits to season three's first episode. Since this episode is pretty new, we'll leave you to ponder what it's in response to. No spoilers here!
8. "Diamond Dogs"—David Bowie, season 1, episode 8 "The Diamond Dogs"
Ted, Beard, Nate (Nick Mohammed), and Higgins form a support group to talk each other through their relationship troubles. With their powers combined, they are The Diamond Dogs, after Bowie's 1974 song and album of the same name.
7. "Bye Bye Bye"—*NSYNC, season 2, episode 11 "Midnight Train to Royston"
The beauty of Ted Lasso is that it disarms you by subverting your worst expectations. Who would expect a macho football team to get excited about nailing the dance to *NSYNC's 2000 hit "Bye Bye Bye"? As Ted informs them, "they're marionettes. That's why it's on the album No Strings Attached," which proves to be the magic intonation for the choreography to fall into place for Richmond.
6. "Mama"—Cam Cole, season 1, episode 4 "For The Children"
When Rebecca's ex Rupert (Anthony Head) sabotages her charity event at which Robbie Williams was scheduled to perform, Ted enlists the help of his neighborhood busker, played by real-life Richmond-upon-Thames busker Cam Cole, to perform his own 2019 song "Mama." Richmond AFC subsequently rocks out to Cole's infectious environmental anthem and the charity event is a success!
5. "Easy Lover"—Phil Collins and Philip Bailey, season 2, episode 10 "No Weddings & a Funeral"
Jason Sudeikis dances in his underwear to "Easy Lover," the 1984 collab between Phil Collins and Earth, Wind & Fire's Philip Bailey. Ted alluded to earlier in this season the duration of which it should take a man to get ready in the morning. This is followed swiftly by Ted having a panic attack. Life comes at you fast.
4. "Ted Lasso Theme—Beard's Version"—Jeff Tweedy, season 2, episode 9 "Beard After Hours"
Ted Lasso really took Beard's bottle episode seriously, replete with his very own version of the show's theme upbeat theme, performed melancholically by alt-rock legend Jeff Tweedy of the band Wilco. (As though you were confused about which Jeff Tweedy we meant.)
3. "Let It Go"—Rebecca, season 1, episode 7 "Make Rebecca Great Again"
When we first meet Rebecca, she's a frozen-hearted ice queen intent on bringing down her ex-husband's beloved football team via the employment of Ted to coach it into the ground. Her karaoke rendition of "Let It Go" from Frozen—sending parents of small children in the mid-2010s into full Ted panic attack mode—signifies her softening to the relentlessly nice Ted and her realization that maybe she wants Richmond to succeed under her leadership after all. And we don't need an excuse to get the West End actress to show off her pipes.
2. "She's a Rainbow"—Rolling Stones, season 2, episode 5 "Rainbow"
One of the show's strongest episodes, "Rainbow" functions as a rom-com but the romance at the center is former team captain Roy's (Brett Goldstein) love for the game and his journey to coaching Richmond AFC. Like "Easy Lover," the seed for "She's a Rainbow" is planted earlier in the season in Higgins' ringtone being the same tune and the song that he says was playing when he met his wife. Naww.
1. "Never Gonna Give You Up"—Rebecca, Ted & cast, season 2, episode 10 "No Weddings & a Funeral"
Ted Lasso pulled off the ultimate Rick Roll by having Rebecca, Ted, and the rest of the cast break into "Never Gonna Give You Up"—during Rebecca's father's funeral, no less! Like "Easy Lover" and "She's a Rainbow," the song also makes an earlier appearance when Rebecca's mom plays it through the house because "it makes me feel happy… I like to have it playing in every room in the house when I wake up."
The show garnered the praises of Rick Astley himself, who took to Twitter to commend the scene. "I'm blown away. Just fantastic," he said. He's right, of course, only Ted Lasso could make a Rick Roll brilliantly emotional and hilarious at the same time.
Ted Lassso Season 3 is streaming now on Apple TV+.