The 7 Best Spanish Culture Kids Movies Ever Made
From 'Coco' to 'Anina,' these kids movies do justice to Spanish culture.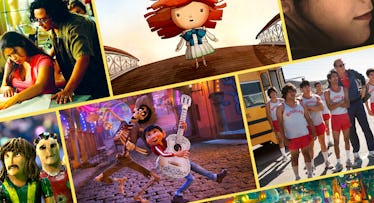 There are nearly 58 million Latinos living in the United States. Outside of Spanish speaking channels like Telemundo, there is not much Latino representation in terms of Spanish culture on American television or cinema. Sure, you can flip a movie like Okja to Spanish audio on Netflix, but that doesn't mean it's a reflection of Hispanic heritage. Luckily, there's a handful of bilingual films that not only reflects Latino American culture, but also teaches a little about the heritage to viewers who may not be familiar with the traditions or struggles most Latinos face in America. Here are seven kids movies that not only reflect Hispanic culture, but are also just good films that feature a lot of Spanish.
RELATED: The 8 Best Spanish Language Kids Shows Ever Made
Coco
The latest from Pixar is not only just another award-winning classic in Disney's library; it's also their first animated film to focus predominantly on Latino culture with Latino characters. Coco follows the story of Miguel and his dog Dante, but it's also built around a Mexican holiday, Day of the Dead, also known as the much cooler version of Halloween. Mexican artist Lalo Alcaraz was hired by Pixar as a cultural advisor on the film, which also features a star-studded Latino cast, including Benjamin Bratt and Edward James Olmos. Plus, it's Pixar, and when was the last time they let you down?
Coco is available to buy on Amazon, and on Blu-ray on 2/27.
Anina
This 2013 fully Spanish language kids film follows a 10-year-old girl who does not like her name. After getting into a skirmish at the playground, Anina's teacher gives her an odd punishment: she's given a black envelope that she cannot open for a week. We said it was odd, but the suspense and fear of what's inside the envelope lets Anina understand her place in the world. It's a coming of age tale, which was based on the children's book with the same name by a Columbian artist. It's also a glimpse into the world of animation outside of Hollywood.
Anina is available on Amazon.
The Book of Life
Similar to Coco, Life showcases the Day of the Dead and other Mexican folklore themes. Produced by Guillermo Del Toro, Life tells the story of a man facing his fears through three magical landscapes (voiced by Diego Luna). The best part of Life is the comedy behind it. This is not The Emoji Movie, so it's a fun ride for the entire family.
The Book of Life is available to rent on Amazon.
Underdogs
How many foosball films can you think of? Underdogs is probably the only one ever made, but this Argentine animated film at least looks as good as Despicable Me, and it's just about the widely popular game. The film follows Amadeo, a young man who ends up going on a journey with the players of his favorite foosball team, because who doesn't have a favorite team? The Spanish culture kids movie actually set box office record in Argentina, probably thanks to families loving the positive messages of teamwork and leadership.
Underdogs is available to rent on Amazon.
McFarland, USA
This Disney film is based on the inspiring true story of the track team at McFarland High School in McFarland, California, where a team of predominantly Latino, predominantly poor boys find fame and success when they join the team. Kevin Costner plays Jim White, the coach who discovers the team and transforms the program into a success. It's a stark and encouraging look at Latino families suffering from hardship, but finding something deep inside to rise up.
McFarland, USA is available to rent on iTunes.
Like Water for Chocolate
The 1992 Spanish language kids movie is not just required viewing for Spanish high school students; it's also a classic film in its own right. It's the most successful Spanish film in American box office history, thanks to its simplistic but loving story. Based on the famed novel, Chocolate tells the over-the-top tale of a forbidden love and how a woman learns to pour her emotions into her cooking. So you'll get plenty of scenes of people crying their eyes out while eating a great dinner, so it'll be a fun laugh for kids.
Like Water for Chocolate is available to rent and buy on Google Play.
Real Women Have Curves
Curves focuses on Ana (America Ferrera), a young girl who's on the verge of becoming a woman, and who must decide whether she's going to go to college or get a job to help out her family. Not to mention, Ana is going through confidence issues with her body and must break free of the old world values of her traditional parents. The Spanglish culture film is definitely for teenagers, and has been a beacon for young women.
Real Women Have Curves is available to rent and buy on iTunes.
This article was originally published on