PBS Kids Shows That Deal With Autism — A Parent's Guide
New characters, awesome resources, and how to watch.
by Tess Gionet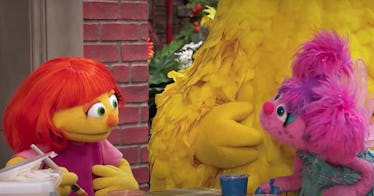 Sesame Workshop
With the latest reports from the Centers for Disease Control and Prevention showing that one in every 54 children in the U.S. is diagnosed with autism, it's common to have a child with learning differences in nearly every classroom. PBS is on a mission to increase representation of autistic characters in kids' shows to reflect reality. From Daniel Tiger to Xavier Riddle and more, there are several PBS kids' shows that delve into autism. This mainstream character diversification goes a long way in helping viewers not only understand and accept neurodivergence, but also to help us celebrate the unique gifts autistic children bring into their communities.
Happy Autism Awareness Month! Here's everything you need to know about the new characters with ASD on PBS, previous PBS autism awareness programs and resources, and how you can watch with your family.
Xavier Riddle and the Secret Museum
BFFs Xavier, Yadina, and Brad travel back in time via their super-cool Secret Museum to meet Temple Grandin as a kid. If you're new to Temple, she's a real-life professor, best-selling author, and one of Time's 100 most influential people. She's also autistic and is a renowned autism activist.
Xavier, Yadina, and Brad are concerned when little Temple hides under couch cushions because she's overwhelmed by noise, and later they're confused when she refuses to fly a kite the same way that they do. But Temple helps the friends understand that she just does things a little differently. Together they change how they communicate with her (soft words, one person talks at a time). Xavier, Yadina, and Brad quickly learn that how Temple sees the world is a little different, but definitely cool. Then they travel back to the present day to use their new skills to get closer to Ben, a new autistic student at school.
Real-life (and grown-up) Temple Grandin praised the episode after it aired, saying it was a great step forward in educating younger kids on "differences and inclusion."
Daniel Tiger's Neighborhood
Max is a new character recently introduced on Daniel Tiger who is also autistic. He loves bugs and buses and is sensitive to loud noises and bright lights. He takes a little extra time to respond to questions. Daniel and his friends get to know Ben and his differences, and by the end of the episode are learning how to make him feel welcome and comfortable in their classroom.
Watch the full episode with a PBS Kids subscription, or get a free 7-day trial through Amazon Prime.
Hero Elementary
This show, which premiered last year, is about a group of superhero students with extra special powers. AJ Gadgets is one superhero who has the power of projection, meaning he can think and understand things in really cool ways. He's also autistic, hates wet clothes and loud noises, and needs to be close to his backpack at all times.
You can watch Hero Elementary with a PBS Kids subscription or watch free videos on PBS Kids' website.
Learn more about AJ Gadgets here.
Sesame Street
PBS introduced us to Julia in 2017. She's a super smart and kind puppet who's amazing at spotting patterns, has a hard time making eye contact, and doesn't always respond to questions the first time around. The Sesame Street characters learn all about autism and Julia's differences and figure out better ways to play together.
You can watch an episode for free here.
Meet Julia and learn about how to talk to young kids about autism here.