Bobby Caldwell's Essential Albums, From The Classics To The Obscure
One of the best singers of the 20th century gave us some of the smoothest albums of all time.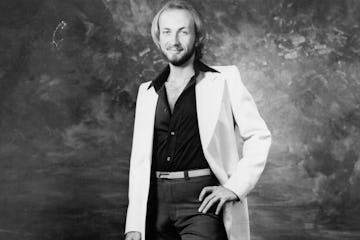 Getty
We may receive a portion of sales if you purchase a product through a link in this article.
Bobby Caldwell, one of the best, and most unheralded, singers of his day, passed away on March 14 at the age of 71, following a long illness. Caldwell was something of a hybrid, a purveyor of soul who could just as easily wrap his silky voice around classic American songbook tunes.
He also wrote music — and did so eclectically: he penned jingles, as well as the Peter Cetera-Amy Grant duet "The Next Time I Fall in Love," which reached Number One in 1986, and even the theme song for The New Mickey Mouse Club. And it all started when he played guitar for Little Richard in the early 1970s. A few years later, in 1978, he notched a Top-20 solo hit, "What You Won't Do for Love," which he co-wrote (with Alfons Kettner) and which has been sampled and covered by many recording artists, including Boyz II Men and Michael Bolton, and Tupac Shakur.
Caldwell never quite exploded in the U.S. the way he deserved, but he was revered in Japan and toured for decades, playing to a loyal fanbase around the globe. Following his passing, musicians like Questlove and Chance the Rapper were among the countless admirers who praised Caldwell's music, and his kindness, on social media.
In tribute to the multi-instrumentalist's life, career, and passing, here are six essential Caldwell albums worth giving a spin.
6. Come Rain or Come Shine (1999)
Dipping into the big band sound again (after Blue Condition in 1996), Caldwell goes full Frank Sinatra and Tony Bennett here, and more than holds his own. He wraps his smooth vocals around such standards as the title song, "Beyond the Sea," "Day In, Day Out," "The Best Is Yet To Come," and "I've Got the World on a String," as well as an original that he wrote, "April Moon," which fits in seamlessly. When he's not channeling Sinatra, Bennett, or Bobby Darin, Caldwell often evokes Stevie Wonder. He does precisely that on another of his own songs, "Come to Me," which originally appeared on Heart of Mine and is not at all a big band number.
5. Perfect Island Nights (2005)
Pop beckoned again in 2005, and Caldwell heeded the call. Cool, dreamy, and in the Yacht Rock realm, Perfect Island Nights mixes power ballads, a few Latin beats, and an array of covers and originals. Highlights include "Perfect Island Night" (not a typo; just one night!), "Crazy for Your Love," "Sukiyaki (Forever)," and "Our Day Will Come." Best of all, though, is "Where is the Love," a loving, longing duet with Deniece Williams that gives the original, Grammy Award-winning Roberta Flack-Donny Hathaway version a run for its money.
4. Bobby Caldwell Live at the Blue Note Tokyo (2007)
Caldwell recorded exactly one live album, and this is it. It's terrific but it's not a collection of career-spanning greatest hits. Rather, Live at the Blue Note Tokyo captures Caldwell in action and celebrating his big band/jazz phase. While he sticks pretty closely to his studio versions of "Indian Summer," "I'll Be Around," "Beyond the Sea," "At Last," "Come Rain or Come Shine," etc., they're energized by a top-notch band performing for a live crowd. The production sounds and feels alive as well, dropping you right into the intimate venue and immersing you in the proceedings.
3. Heart of Mine (1987)
Caldwell was releasing albums at a fairly steady clip by 1987 and had found his groove. Many fans consider this among his best, most cohesive sets, and he wrote or co-wrote every song. It consists mostly of ballads, bolstered – for better or worse – by an inevitable pop gloss typical of the period. Recommended tracks include "Stay with Me," "Heart of Mine," "Real Thing," and, interestingly, his solo version of "The Next Time I Fall," which here goes by the title "Next Time (I Fall)." It's arguably even better (and inarguably less sappy) than the version Cetera and Grant road to the top of the charts a year earlier.
2. Cool Uncle (2015)
No one could have known it at the time, but Cool Uncle turned out to be Caldwell's final album, and it gave us a Caldwell in full, glorious voice and still taking chances. Cool Uncle paired Caldwell with Grammy-winning producer-writer-performer Jack Splash, who has collaborated with everyone from Jennifer Hudson and John Legend to Alicia Keys and Katy Perry, and had publicly expressed a desire to team up with Caldwell. Long story, but Mrs. Caldwell made it happen. The songs here veer from toe-tappingly catchy to heartbreakingly tender. Standouts include "The Cat Came Back," "Break Away" (with Jessie Ware), "Mercy" (with Cee-Lo Green), "Breaking Up" (with Deniece Williams and rapper Eric Biddines), "Game Over" (featuring Mayer Hawthorne) and the utterly insane, funkadelic "Beloved," which casts Caldwell as a... vampire!
1. What You Won't Do for Love (1978)
This represented Caldwell's debut, and it's solid. The title track, of course, anchors the album, and it remains as catchy as ever. "Take Me Back to Then" is a sweet ballad – or corny if you're jaded – about wishing to be a kid again, and Caldwell hits some crazy high notes and then goes deep on the growls for "Can't Say Goodbye." "Kalimba Song" is a fascinating, but ridiculously short (1:19) funk instrumental that leaves you wanting more. Caldwell bounces around here stylistically, and there's no denying What You Won't Do for Love was a product of its time, thus the slick disco tinges on more than a few tracks. The whole album runs just short of 35 minutes, but it proved to be Caldwell's most successful release, going double platinum in the U.S.
Hot Tip: Several collections span much of Caldwell's career, including The Consummate Caldwell, Time & Again: The Anthology, Parts I & II, and Bobby Caldwell Croons Big Band Hits & Standards.