15 of the Very Best '80s Cartoons and Where to Stream Them
Watch episodes of 'Inspector Gadget' and 'G.I. Joe' right now.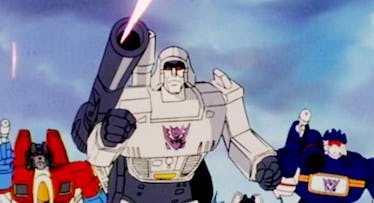 Credit: Hasbro/Paramount
The '90s may be credited as the decade where animation really took off but, let's be serious. The '80s walked very fast so the '90s could run. From He-Man to Ducktales to Inspector Gadget, to the Smurfs and G.I. Joe, this was a big era for all of us. It was the decade where studios first began to realize that animation could be treated as more than just an afterthought and several foundational shows helped pave the way for the cartoon explosion in the '90s.
Here are 15 of the best and most beloved cartoons of the '80s that you can watch online right now.
Inspector Gadget
Inspector GadgetParamount+
DuckTales
DuckTalesDisney+
Adventures of the Gummi Bears
Gummi BearsGummi BearsAdventures of the Gummi BearsDisney+
He-Man and the Masters of the Universe
He-Man and the Masters of the UniverseAmazon Prime Video
ThunderCats
ThunderCatsHulu
Transformers
TransformersTubi
The Smurfs
The SmurfsHBO Max
G.I. Joe: A Real American Hero
G.I. Joe: A Real American HeroTubi
Voltron
VoltronVoltronAmazon Prime Video.
Garfield and Friends
U.S. AcresGarfieldGarfield and FriendsPeacock.
Chip 'n Dale: Rescue Rangers
Chip 'n Dale: Rescue RangersDisney+
Jem and the Holograms
Jem and the HologramsTubi
Denver: The Last Dinosaur
Jurassic ParkDenver: The Last DinosaurTubi
She-Ra: Princess of Power
He-ManShe-RaShe-Ra: Princess of Power Amazon Prime Video
Spider-Man and His Amazing Friends
Spider-Man and His Amazing FriendsDisney+