25 Years Ago, One Band Dropped An Album You Either Loved Or Hated — But Never Forgot
It's been how long since you looked at me?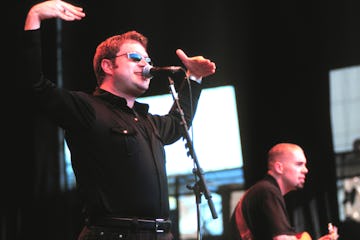 Tim Mosenfelder/Hulton Archive/Getty Images
The Fatherly Turntable
We may receive a portion of sales if you purchase a product through a link in this article.
It's been twenty-five years since you looked at me, cocked your head to the side, and said you were angry. It's also been twenty-five years since Barenaked Ladies have even thought about apologizing for the 1998 hit album Stunt. Whether or not you loved this album when it dropped on July 7, 1998, is kinda not the point. There's a before and after with Stunt, even though the earwormy nature of these songs basically traveled back in time to make us think that everything on the album had all been done before.
With Stunt, the Barenaked Ladies made their most mainstream album and put their brand of joke-folk rock into the brains of everyone. For most casual music fans, Barenaked Ladies didn't exist until we all heard "One Week" on endless rotation on the radio. But, for the faithful who loved Wrath of Khan jokes on their debut album 1992 Gordon or the infamous, or endlessly catchy "The Old Apartment," from the 1996 album Born on a Pirate Ship, the release of Stunt in 1998 was pretty much when the rest of the world caught up to the existence of the band. Just to make sure everyone's got this, Stunt — and therefore, the massively popular song, "One Week," — was the fourth studio album from Barenaked Ladies. Stunt is a comeback album that feels like a debut album.
Laden with pop culture references that have oddly aged better than they have any right to, Stunt, of course, kicks off with the most overplayed song of 1998, the hit "One Week." Here's the problem with "One Week." It's a good song, masquerading as a bad song. The hook is great, the actual melody is pretty solid, and the lyric content is borderline moronic. And yet, if you were to put yourself into your 1998 body, you can remember when these lyrics felt relatable. Hell, in 2023, Harrison Ford is still getting frantic, and it's still fun to watch an X-Files with no lights on. (Yes, I know that Frantic is a movie that has nothing to do with Indiana Jones, so please, hold your emails.)
The larger point is if you hate "One Week," it's partly because it feels like the band was trying to get on your nerves on purpose. The lyrics and style of Ed Robertson and Steven Page on "One Week" perfectly capture the inner monologue of a one-sided fight that everyone has had in their heads with their partner. This doesn't mean "One Week" is totally pleasant, but it does join the long tradition of catchy rock-pop songs that are about somewhat serious, everyday disagreements. "One Week" also contains a tiny bit of hope within its depiction of a dysfunctional relationship: The "character" knows that this has all happened before, and will happen again.
But Stunt is more than just "One Week." The album keeps things moving with the memorable "It's All Been Done," as well as "Call and Answer." Barenaked Ladies purists (they exist) might claim that these three songs are all way catchier and radio-friendly than any of the band's previous stuff, but that's a little like those friends you had in the early aughts who didn't like "Float On," because Modest Mouse was supposedly selling out. Barenaked Ladies aren't a band that is serious enough to be allowed to have an "indie period" and a "sellout period," but the paradox is that's exactly what Stunt was: an album from a weird, silly-ish band that actually managed to get really big. And the reason it got big is that yes, it was catchy, but it was also pretty damn good.
It's hard to say the Barenaked Ladies had a direct influence on any bands that followed, and frankly, that's probably a good thing. Stunt is a perfectly named album; a record that feels like a trick being performed by some guys who don't really care if you see how they're doing it. It's a confident record made by a band that sounds like they're joking around to compensate for a lack of confidence. It made the end of the 1990s a little more fun and allowed everyone to laugh at their problems. Stunt is an escapist record grounded in realistic angst. You may not have liked it. You may have hated it. But, for somebody you loved, in 1998, this record was everything.
The Barenaked Ladies are currently on tour for the Last Summer on Earth Tour.