Watch This Overlooked 2013 Rom-Com For Your Next Rainy Date Night
It's better than 'Notting Hill.' Really!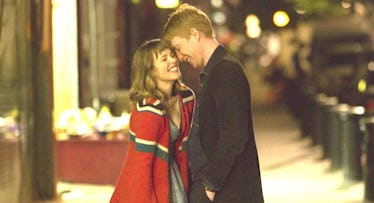 Credit: Universal
Some of the best movies are hidden gems that most people never saw. Among my favorite movies is the original version of The In-Laws, an under-the-radar comedy classic that starred Peter Falk and Alan Arkin. And then there's The Frisco Kid, a thoroughly overlooked box office dud that starred Harrison Ford as a cowboy and Gene Wilder as a rabbi. Also on that list is About Time. Here's why it's great and why you should catch it on Netflix ASAP.
Upon its release in 2013, American audiences overlooked the modest British film and critics didn't exactly embrace it, either. It earned just $15 million in the U.S. during a brief theatrical run. It performed better elsewhere around the world. I can understand why audiences here didn't go. About Time is a sci-fi/fantasy comedy/drama, written and directed by Richard Curtis, who did similar double duty on Love, Actually, and wrote Four Weddings and a Funeral, Notting Hill, and Bridget Jones's Diary. He was also esteemed back then for writing the television shows Not The Nine O'Clock News, Blackadder, and Mr. Bean, as well as the first two Bean big-screen installments. The leading lady is the wonderful, but not entirely bankable Rachel McAdams, who was best known for The Hot Chick, Mean Girls, Wedding Crashers, and The Time Traveler's Wife, a film that, minus the comedy element, felt quite a bit – perhaps too much? – like About Time. And the male lead was Domhnall Gleason, the son of Harry Potter's Mad-Eye Moody, Brendan Gleeson. Domhnall, a superb actor, went on to bigger things, including his role as General Hux in several Star Wars movies, and Ex Machina, but in 2013 most Americans only knew him as Bill Weasley in the final two Harry Potter films. Also in the movie is Bill Nighy, who's among the best actors on the planet, and, in key supporting roles, then-rising stars Margot Robbie and Vanessa Kirby. Set in Cornwall, England, the film follows the perfectly likable Tim (Gleeson), who receives some shocking news on his 21st birthday. According to his dad, James (Nighy), the men in their family can time travel. James implores his son not to use the unlikely power to make himself rich or famous, and Tim heeds the advice. He tries to help family and friends and then, when he meets a charming American, Mary (McAdams… who, for the record, is Canadian), it comes in handy. And that's because he keeps screwing things up with her. So, for example, he time travels to cut in on a romantic rival at a pivotal moment. Matters take a serious turn later when James comes to Tim with sad news, a situation that cannot be reversed without changing everything.About Time will make you smile, laugh, swoon, and cry – and then it'll make you do so again… and again. Gleeson and McAdams spark with genuine romantic chemistry, and Gleeson and Nighy convincingly and affectionately play father and son. The winsome performances are complemented by smart dialogue, lush cinematography, and a solid score. And the film features the final performance by the great Richard Griffiths, who completed his role shortly before he died. The film is dedicated to him. If there's anything that doesn't work it's the science that drives the science-fiction. Tim and James not only test the laws of physics, but they break their own time travel rules whenever necessary to propel the plot. Also, the film runs a bit long at two hours and three minutes. Trims to a few draggy scenes throughout the film would've helped. If you've never seen About Time, it's well, about time. And if you've not seen it in years, it's time to do so again. The film is a charmer. About Time is streaming on Netflix now, but leaves on April 15.