5 Christmas Carols You Can Learn Right Now
Get in the Christmas spirit!
by Alicia Kort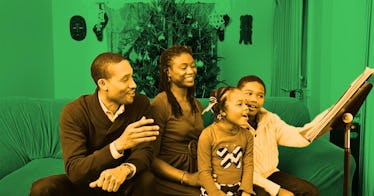 Christmas isn't Christmas without carols. Songs can come and go, but Christmas carols outlast the test of time. Some of them have been around for hundreds of years. Even though some of the words of the carols seem old and outdated, the first few notes of each carol still warm your Scrooge-y heart and make you nostalgia for the Christmases of your youth. You might have even had to sing these songs in a Christmas pageant years and years ago. Decorating the house without Christmas carols seems like a boring chore. With music, it feels like a magical experience and that Santa might slide down the chimney with his sack full of presents at any moment. Now that you're a parent, it's time to teach these songs to your kids. Make yourself a cup of hot cocoa (or eggnog) and take a few minutes to become familiar with these classic carols again.
5. "Away in a Manger"
Little kids often have to sing this song in Christmas pageants, so you might as well get them started early. The song about baby Jesus in the manger is soothing, like a lullaby.
4. "Twelve Days of Christmas"
This song is not only fun to sing but can challenge your child's memory and counting skills. It might take your kids a little longer to learn, but the pay-off will be big. You can also show them this "Twelve Days of Christmas" rendition from The Muppets and John Denver, where Fozzie Bear forgets his part in the song. Everyone makes mistakes, and those people certainly got a lot of gifts in 12 days. We recommend not buying anyone the presents given out in "Twelve Days of Christmas" for the true love in your life, though. It's dangerous.
3. "Hark! The Herald Angels Sing"
This song is full of warmth and celebration. The beloved Christmas film It's A Wonderful Life decided to close out the long and depressing film on a high note with this classic carol.
2. "Joy to the World"
This song has been featured on everything from A Christmas Story to Disney's Sing Along Songs: Very Merry Christmas Songs. Learn the lyrics with the help of Mickey Mouse and a scene from Fantasia that Disney repurposed
1. "Silent Night"
No Christmas Carol list would be complete without "Silent Night." The hauntingly beautiful ballad speaks for itself.
This article was originally published on