5 Best 'Mister Rogers' Episodes For Any Kid Obsessed With 'Daniel Tiger'
Christopher Loggins — one of the minds behind 'Daniel Tiger' — takes us through his favorite classic Mister Rogers' segments.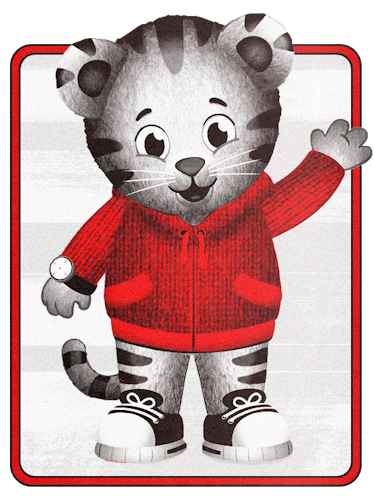 Emma Chao/Courtesy PBS; Fatherly; Getty Images
Since 2012, contemporary children have been comforted by the animated heir to the kindly kingdom of Fred Rogers in the form of Daniel Tiger's Neighborhood. As both the literal and spiritual successor to Mister Rogers' Neighborhood (the titular Daniel is the offspring of a puppet from the original show) the PBS Kids series manages to deliver the cutesy goods along with some helpful messages. Part of the integrity of Daniel Tiger's Neighborhood comes from the fact that it's created by Fred Rogers Productions. In fact, earlier this month, the show took home an Emmy for Best Preschool Children's Animated Series of 2018. This week, Daniel Tiger also dropped three new episodes, focused on themes about adults coming home, children learning bravery and things happening all around us.
For the current producer and showrunner of Daniel Tiger — Christopher Loggins — the connections between the new show and the legacy of the original series run very deep. We recently chatted with Loggins about why Daniel Tiger doesn't wear pants, but in the conversation, also revealed his top five picks for classic episodes of Mister Rogers. From the magic of making crayons to an NFL player dancing ballet, here's the best of Fred Rogers, according to one of the people carrying the neighborhood torch today.
5. Lynn Swann — NFL Player and Ballet Dancer
The neighborhood of Mister Rogers, was in fact, based on a real neighborhood in Pittsburgh. As Loggins points out, the production of Daniel Tiger is also based in Pittsburgh to this day. During the original run of Mister Rogers' Neighborhood, Fred Rogers made it clear that many of his guests were his actual neighbors. In a 1981 episode called "Competition," Rogers invited an NFL player — Lynn Swann — to help teach…ballet!
"The show was about competition, but Mr. Rogers did something really thoughtful I think by showing that Lynn Swann, Loggins explains. "Mister Rogers' Neighborhood is home of the Pittsburgh Steelers and Lynn was a Steeler at the time. He's this famous football player, but he was actually taking dance classes in real life at the time. Most guys liked Lynn Swann, but so the episode showed him as a football player. But it also showed him doing ballet lessons on the show."
Watch the segment above or the entire episode here.
4. Touring the Crayola Factory
In one 1979 episode, Mister Rogers shows kids how crayons are made. It's a simple proposition but considering how central crayons are a child's early play, revealing the origin of crayons remains elegantly brilliant. And like having a Pittsburg Steeler on the show, the Crayola crayon factory was one of Mister Rogers' real neighbors.
"It's in Eastern Pennsylvania," Loggins explains. "We actually went back and did a segment with them again for Daniel Tiger's Neighborhood. It was fun because people have strong memories of that particular episode and that segment. So I'm proud to say that we were able to do it again with the people who are making crayons now. It's still at the same factory in our new show."
Watch the segment above or the entire episode here.
3. Mr. Rogers Breaks the Fourth Wall
In one memorable 1984 episode called "Work," Mister Rogers reveals what he does for a living — he's a children's entertainer! This straightforward episode isn't a metafictional dodge or a joke, it's clear and honest to children: What you're watching is a TV show, but Fred Rogers is a real person.
"I love the behind-the-scenes episode because I think it's even different than television that's currently happening today. He was very upfront about it," Loggins explains."He was like 'This is a television show and I'm your television neighbor…Look over here. I'm in a studio. These are the musicians.' And he went over and talked to Johnny Costa who was on piano and the other musicians that would play live to tape. That was just really cool I think because it was very honest and showed kids that they could make something. It doesn't just happen. And actually, as I'm saying that I'm remembering when we interviewed celebrities for a special for the 50th anniversary of Mister Rogers' Neighborhood, we talked to Judd Apatow who said that seeing that episode made him think: 'Oh, people can make shows.' And now he's making movies."
Watch the short segment above or the full episode here.
2. Potato Bugs and Cows Opera
In 1973, Mister Rogers experimented with miniature "operas" which are exactly what they sound like: musicals around a specific theme or story in which the characters sing the story.
"These were some of the most interesting Mister Rogers' Neighborhood episodes because they show the playful, quirky side of Mr. Rogers and how creative he was," Loggins says. "One of them is called "Potato Bugs and Cows." It's about a cow that wants to be a potato bug. Shocking!"
Watch the short segment above or the full episode here.
1. Parents Go To Work
One reoccurring theme on Daniel Tiger's Neighborhood is the song "Grown-ups Come Back," but the idea of children learning to cope with their parents leaving the house to go to work has its seeds with the original Mister Rogers. Loggins explains that one of his earliest television memories as a child himself was seeing a segment on "how people make peanut butter." For Loggins, this is ironic, because Daniel Tiger has touched on the theme of working parents more than once, specifically in the new episodes airing on PBS Kids this week in which Jodi Platypus learns how to deal with her mom going on a three-day work-related trip.
"The peanut butter thing was one my favorite things I remember watching on television, and an early memory," Loggins says. "Funnily enough, when I went to see what episode that segment was from, and Parents Go to Work Week in 1989. But, working on Daniel Tiger, and doing the same messages, it was very timely."
Here's the full episode.
PBS Kids has premiered three new episodes of Daniel Tiger's Neighborhood over the past three days, consisting of six stories: "Jodi's Mama Travels for Work," The Tiger Family Babysits," "Daniel Does Gymnastics," "The Big Slide" "Daniel's Blueberry Paws," and "Wow at the Library."
You can find out more about Daniel Tiger on the PBS Kids website.
This article was originally published on